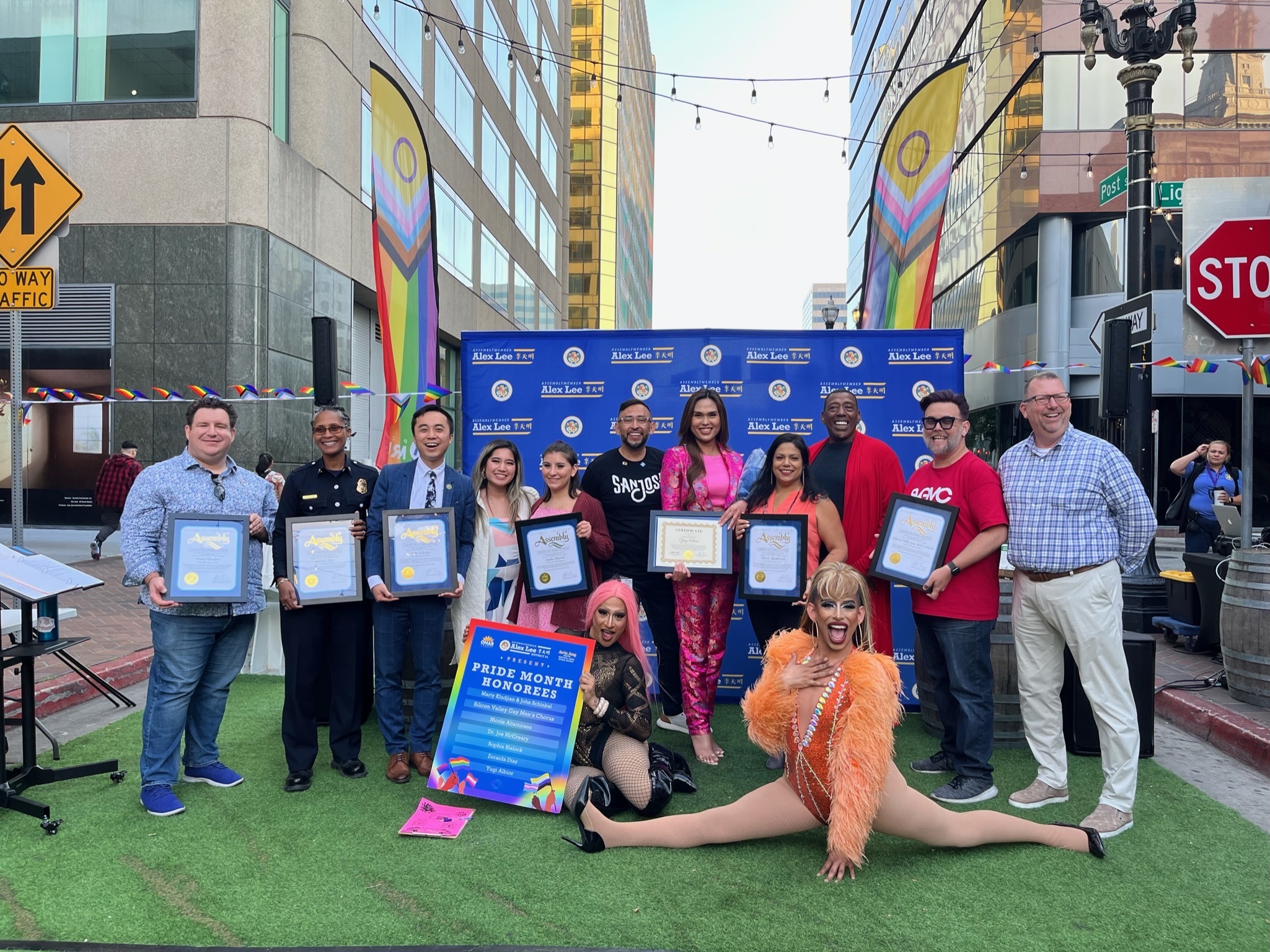 On Thursday, June 22, 2023, Assemblymember Alex Lee, the first bisexual state legislator in California ever elected, celebrated Pride Month with Berryessa Union School District Board Member Jaria Jaug and San José City Councilmember Omar Torres to recognize eight individuals and organizations:
Marty Kludjian and John Schinkel: Kludjian and Schinkel are dedicated LGBTQ+ advocates, promoting a more equitable and inclusive California. Kludjian serves as the Chair of the City of Fremont's Human Relations Commission and sits on the LGBTQ+ subcommittee where he pushes for more diversity, equity, and inclusion policies for the City and community-based organizations. Schinkel is a lifelong California resident whose passion for LGBTQ+ advocacy started following the introduction, and later passing, of 2008's California Proposition 8, the ban on same-sex marriage later deemed unconstitutional by the Supreme Court of the United States. As the president of the Rotary Club of Mission San Jose, Schinkel works closely with elected officials to ensure the issues affecting the LGBTQ+ community are heard and met. Together, John and Marty will be exchanging wedding vows this December after four amazing years together and will be spending their lifetimes in service to the community.
Silicon Valley Gay Men's Chorus (SVGMC): SVGMC is a singing group comprised of out, gay, queer, and proud men. Founded in 1983, SVGMC's mission is to inspire and unite LGBTQ+ diverse community through musical excellence and pride. Beyond only queer men, SVGMC is proud to welcome anyone who can sing as a tenor, baritone, or bass, regardless of gender, sexuality, ability, or ethnicity.
Nicole Altamirano: Altamirano has been serving as Silicon Valley Pride's Chief Executive Officer since December 2019 and works year-round with her team to put on the South Bay's largest Pride celebration.  Since joining SV Pride in 2016, Altamirano has managed the logistical operations of the festival. She also co-chaired "Hey Girl", a collaborative subcommittee of Silicon Valley Pride that produces and promotes events to women and femme-identifying individuals across the entire spectrum of the LGBTQ+ community. In 2020, she and the SV Pride Board created the Thaddeus Campbell scholarship fund for LGBTQ+ youth to empower students in their growth and development and encourage them to become future leaders. Lesbian Visibility Day is important to her because being visible every day as a Lesbian, Native American, Mexican, and Woman is crucial. She works as a Budget Analyst at the City of San Jose and promotes an LGBTQ+ support group there for city employees.
Dr. Joe McCreary: Dr. McCreary is the Assistant Superintendent of Education Services. As an openly gay man, he helps push Berryessa in the way of inclusion and actively works to make Berryessa an inclusive place for LGBTQ+ students. He advocates for the inclusion of LGBTQ+ literature in our libraries and speaks to our principals about how we are ensuring that our LGBTQ+ students are being supported. In 2019, he was also awarded ACSA Region 8 Student Services Administrator of the Year.
Sophia Blalock: Blalock was recently the President of Piedmont Middle School's Gay-Strainght Alliance (GSA) Club. She strives to educate others on the history and struggles of the LGBTQ+ community and the ways we can combat intolerance today. She does not shy away from talking about issues outside of the club with other students and she teachers whether they are allies or not. Blalock wants to make her school community one that accepts all people regardless of sexuality and gender identity.
Zoraida Diaz: Diaz is the City of Fremont's first female Fire Chief. She recently served as the Fremont Fire Department's Deputy Chief of Operations and has more than two decades of professional experience in fire service and 15 years working in social services. She recently served as the Fremont Fire Department's Deputy Chief of Operations and has more than two decades of professional experience in fire service and 15 years working in social services. Prior to working for the City of Fremont, Diaz spent 18 years with the City of Oakland where she established her career in the fire service profession, and was promoted through the ranks to Assistant Fire Chief.
Yugi Albior: Yugi Albior is a proud Filipina/Japanese transwoman born and raised in Zambales, Philippines. Yugi is currently a PrEP/HIV Health Education Coordinator for the Bay Area Community Health's TransVision Program in Fremont. For 5 years, she has been working for TransVision serving additionally as a Health Education Specialist and the Program Supervisor. In her roles, she provides personal one-on-one counseling, testing, and education, ensuring that transgender patients get the services they need, including trans-affirming treatment (hormones and surgery referral), STD screening, PrEP and HIV testing and treatment, and name and gender change assistance. During the recent major mpox virus outbreak (formerly known as monkeypox), she helped implement new protocols and strategies that vaccinated and protected those at risk of monkeypox. In November 2021, she continued to promote TransVision services by organizing and hosting the 2022 Transgiving Gala.
                                                                                         ###