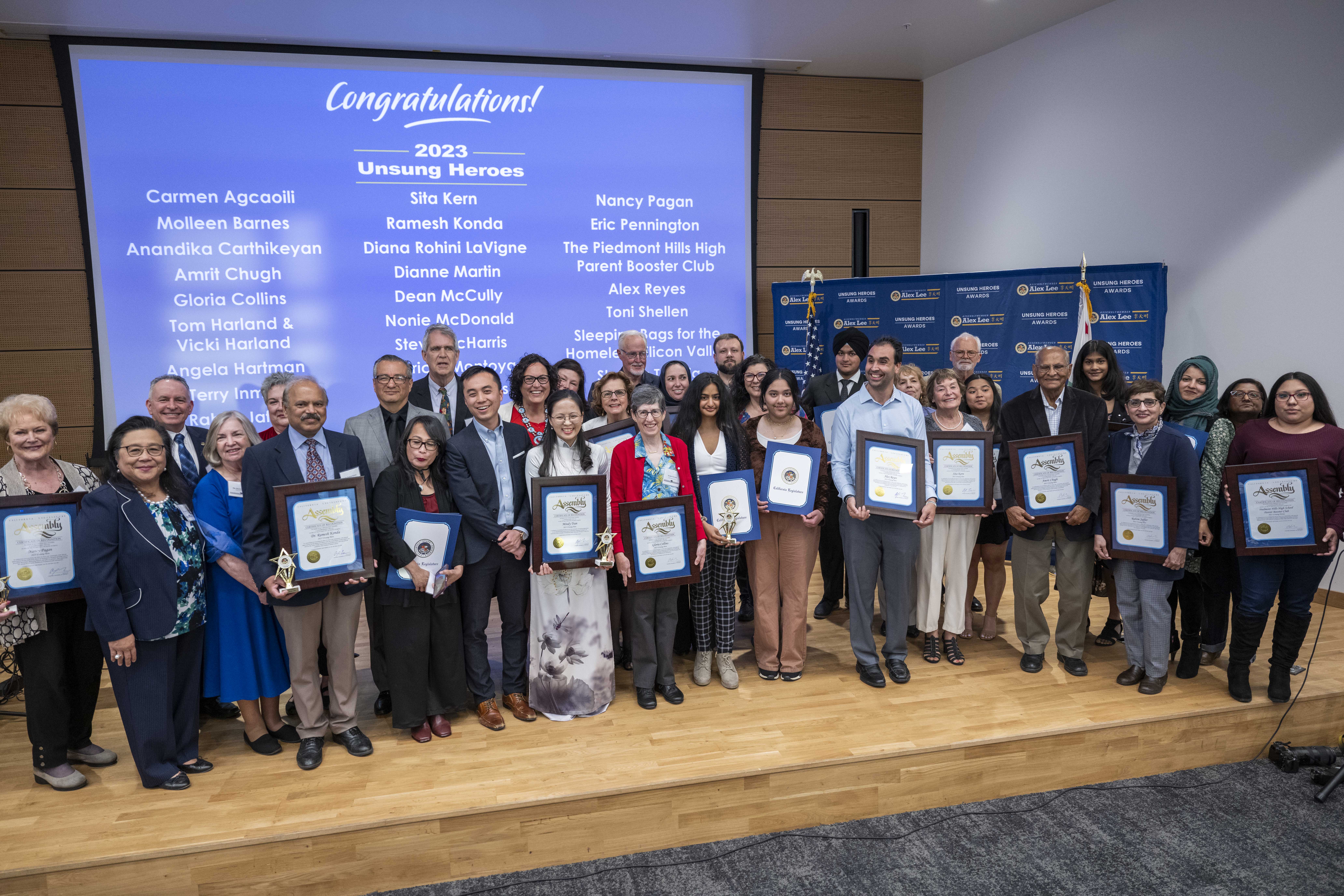 On Friday, April 14th, Assemblymember Alex Lee hosted an award ceremony at the Fremont Downtown Event Center to recognize the Unsung Heroes of Assembly District 24. 26 individuals and organizations from across Assembly District 24 were recognized for their contributions and commitment to the betterment of the community.
Dr. Carmen Agcaoili was nominated by Angus Cochran - Fremont
Dr. Agcaoili is the Intensive Care Unit Medical Director at Washington Hospital in Fremont. Dr. Agcaoili oversaw the ICU throughout the pandemic and leads the nursing force and physicians. She worked countless hours treating some of the sickest COVID patients in our community to ensure their well-being.
Molleen Barnes was nominated by Connie De Grange - Sunol
Molleen is the Superintendent and Principal at Sunol Glen School. She works to foster an educational environment that produces creative, goal-oriented students, lifelong learners, and engaged and responsible citizens. Molleen recently led the school during the flood disaster and organized a volunteer cleanup that hundreds of Sunolians attended. 
Anandika Carthikeyan was nominated by Carthi Shanmuganathan - Fremont
Anandika is the founder of Golden Gate STEM. Over the past two years, Anandika has organized free workshops and classes that have allowed students to learn about computer-aided design, the RobotC language, and the fundamentals of building a robot. Her work has provided students more opportunities to explore STEM concepts.  
Amrit Chugh was nominated by Yogi Chugh - Fremont
Amrit is the President of the Fremont Indian Seniors Association. He works diligently to provide a forum for cultural exchanges and activities for Indian-American seniors in the Tri-Cities area. Amrit's work has helped build bridges and relationships for the Fremont Senior community.  
Gloria Collins was nominated by Michael Kraus – San Jose
Gloria is the Vice President of the Penitencia Neighborhood Association. Gloria organizes neighborhood events such as National Night Out and dumpster days, sends out relevant recycling information, addresses items of concern, and supports community meetings. Her work has helped foster a safe and informed community environment.  
Tom Harland and Vicki Harland were nominated by Connie De Grange - Sunol
Tom and Vicki are the founders of the Sunol Repertory Theater, which is celebrating its 40th anniversary of operation in our community. Under their leadership, the Sunol Repertory Theater has helped unite our community through art and has raised more than $200,000 for the Sunol Glen School arts program.  
Angela Hartman was nominated by Natalia Lebedeva - Newark
Angela is a Volunteer Coordinator and Volunteer Program Director at the Ohlone Humane Society's Wildlife Rehabilitation Center. She helps save injured and orphaned wildlife from throughout the Tri-City area. Under Angela's leadership, the Ohlone Humane Society rehabilitates hundreds of wild animals each year. 
Terry Inman was nominated by Fremont Vice Mayor Teresa Cox - Fremont
Terry is the Lead Pastor at Harbor Light Church in Fremont and the President of the Board of CityServe. During the COVID-19 pandemic, he took on a leadership role working with the Farmers to Families Food Program to provide 2,000 boxes of free fruit, vegetables, and dairy products twice a month to members of our community in need.
Rahim Jaffer was nominated by Shaheena Daredia - Milpitas
Rahim is an active volunteer with Ismaili CIVIC and the Aga Khan Development Network, participating in food drives, teachings, and finding ways to assist seniors in the community. Rahim also works remotely to train hundreds of professionals as part of the School of Professional and Continuing Education in Afghanistan.
Sita Kern was nominated by Susan Fowle – San Jose
Sita is a Board Member of the Berryessa Citizens Advisory Council, where she works to enrich the Berryessa Community and advocate for its residents. Sita also serves as a volunteer for the Wings of History Air Museum, at the Thrift Box, and at the Berryessa Branch Library.
Dr. Ramesh Konda was nominated by Venkat Vattikuti - Fremont
Dr. Konda serves our community as part of the Association of Indo-Americans and the Bay Area Telugu Association. His leadership with local Indian community organizations helps unite our diverse communities by fostering a more inclusive Bay Area. 
Diana Rohini LaVigne was nominated by Vikramaditya Gupta - Fremont
Diana helps families with young children experience nature by leading group camping trips. Her leadership as a California Master Naturalist and an Environmental and Outdoor Educator has helped pass on an appreciation of natural spaces. Over the past 20 years, over 3,500 campers have been part of one of her camping trips.
Dr. Dianne Martin was nominated by Angus Cochran - Fremont
Dr. Martin is an infectious disease specialist at Washington Hospital in Fremont and was responsible for developing and updating the hospital's infection prevention protocols during the COVID-19 pandemic. She spent countless hours keeping the hospital's staff, patients, and our community safe.
Dean McCully was nominated by Lisa Bickford – San Jose
Dean is a dedicated advocate for families and individuals with special needs. Dean supports the work of Alum Rock Counseling Center, Families of Children with Special Needs, CP Mentorship, South Bay Yacht Club, Sea Scouts Ship 300, Santa Visits Alviso, Reid-Hillview Airport, and the Young Eagles flight program.
Nonie McDonald was nominated by Milpitas Vice Mayor Evelyn Chua - Milpitas
Nonie is a tireless fundraiser and volunteer for the Milpitas Library. She has helped raise thousands of dollars for the Milpitas library through her work with the Friends of the Milpitas Library. Nonie also coordinates adult and teen volunteers to make the library an essential Milpitas institution.
Steve McHarris was nominated by Milpitas City Council Member Anthony Phan – Milpitas
Steve is the City Manager for the City of Milpitas. He previously served as Milpitas' Deputy City Manager. Under his leadership, the City of Milpitas has encouraged, promoted, and led on Transit-Oriented-Developments, pedestrian and bicycle trail connections, historic preservation, and affordable housing.
Patricia Montoya was nominated by Milpitas Vice Mayor Evelyn Chua - Milpitas
Patricia is the founder of "The Peaceful Poets of Milpitas." Through this group, she brings together writers and lovers of poetry of all ages. Patricia's leadership with The Peaceful Poets of Milpitas over the past sixteen years has fostered a love of poetry throughout the Milpitas community.
Alex Ontiveros was nominated by Sergio Domeyko and Sonia Muñoz - Fremont
Alex empowers the Latino community through educational, professional, and community development. His leadership has helped provide mentorship, scholarships, and new opportunities for students. Alex also served as the Producer for an award-winning documentary about California farmworkers and field workers.
Nancy Pagan was nominated by Alameda County Board of Education Trustee Eileen McDonald - Newark
Nancy is an essential member of the Washington Hospital community. She greets visitors, provides directions, and delivers flowers and gifts to patients. Nancy is also responsible for organizing the Washington Healthcare Foundation annual golf tournament, which raises funds to purchase new medical equipment.
Eric Pennington was nominated by Susan Fowle – San Jose
Eric is an active volunteer with the Berryessa Citizens Advisory Council. He has been responsible for hosting BCAC's virtual meetings and ensuring that Berryessa residents have full access to the information presented. Eric also helps provide nutritional support to homeless members of our community.
The Piedmont Hills High School Parent Booster Club was nominated by Muneerah Lalani – San Jose
Representing the Piedmont Hills High School Parent Booster Club is their Board: Anh Le, Virginia Varela-Campos, Maria Tran, Sabrina Lu, Janet Wong, Benjamin Dedering, Stacey Dedering, Debbie Dundon, Muneerah Lalani, and Angela Sosa.
The Piedmont Hills High School Parent Booster Club supports and aids teachers, administrators, and students at Piedmont Hills High School in San Jose. They have helped improve school facilities by installing water fountains, electronic blinds, and benches. They also help meet teachers' requests for needed educational supplies. 
Alex Reyes was nominated anonymously - Fremont
Alex has worked as a DJ for the past twenty years and has been a dedicated disability activist for over ten years. As a DJ who helps bring a positive experience to community events around the Bay Area. Alex advocates for Californians with disabilities as a member of the State Council for Developmental Disabilities.
Toni Shellen was nominated by Colleen Perez - Fremont
Toni founded the Tri-City Alameda County Chapter of the BRADY Campaign and served as President for ten years. In this position, she has been a tireless advocate to end gun violence in the United States by organizing rallies, contacting lawmakers on bills that would impact gun violence, holding vigils, and speaking to community groups. 
Sleeping Bags for the Homeless of Silicon Valley was nominated by Jinky Peralta and Siema Zia – San Jose
Representing Sleeping Bags for the Homeless of Silicon Valley are some of their outstanding volunteers: Christine Bach, Ruhani Chopra, William DeGuzman, Sarah Mohideen, Jinky Peralta, Ezekiel Su, Jasmeh Sudan, Siema Zia, and Katarzyna Zak.
Sleeping Bags for the Homeless of Silicon Valley organizes the distribution of sleeping bags, tents, food, and other essentials for unhoused members of our community. The leadership of their outstanding volunteers helps those most in need in our community have a safe and reliable place to get food, toiletries, and other essentials.
Sheena Talosig was nominated by Jo Nguyen – San Jose
Sheena is a Public Information Representative and Web Master for the communications team at the City of San Jose Department of Parks, Recreation, and Neighborhood Services. During the recent flood events in San Jose, she worked tirelessly to provide online updates regarding road, park, trail, and facility closures to the public.
Mindy Tran was nominated by Tuan Nguyen – San Jose
Mindy is the co-founder of Hương Sen Charity Group and Thương Ca Tiếng Việt. In these roles, she organizes cultural performances and helps promote and preserve Vietnamese culture in our community. Mindy also works with these organizations to raise funds for disadvantaged children and individuals with disabilities.