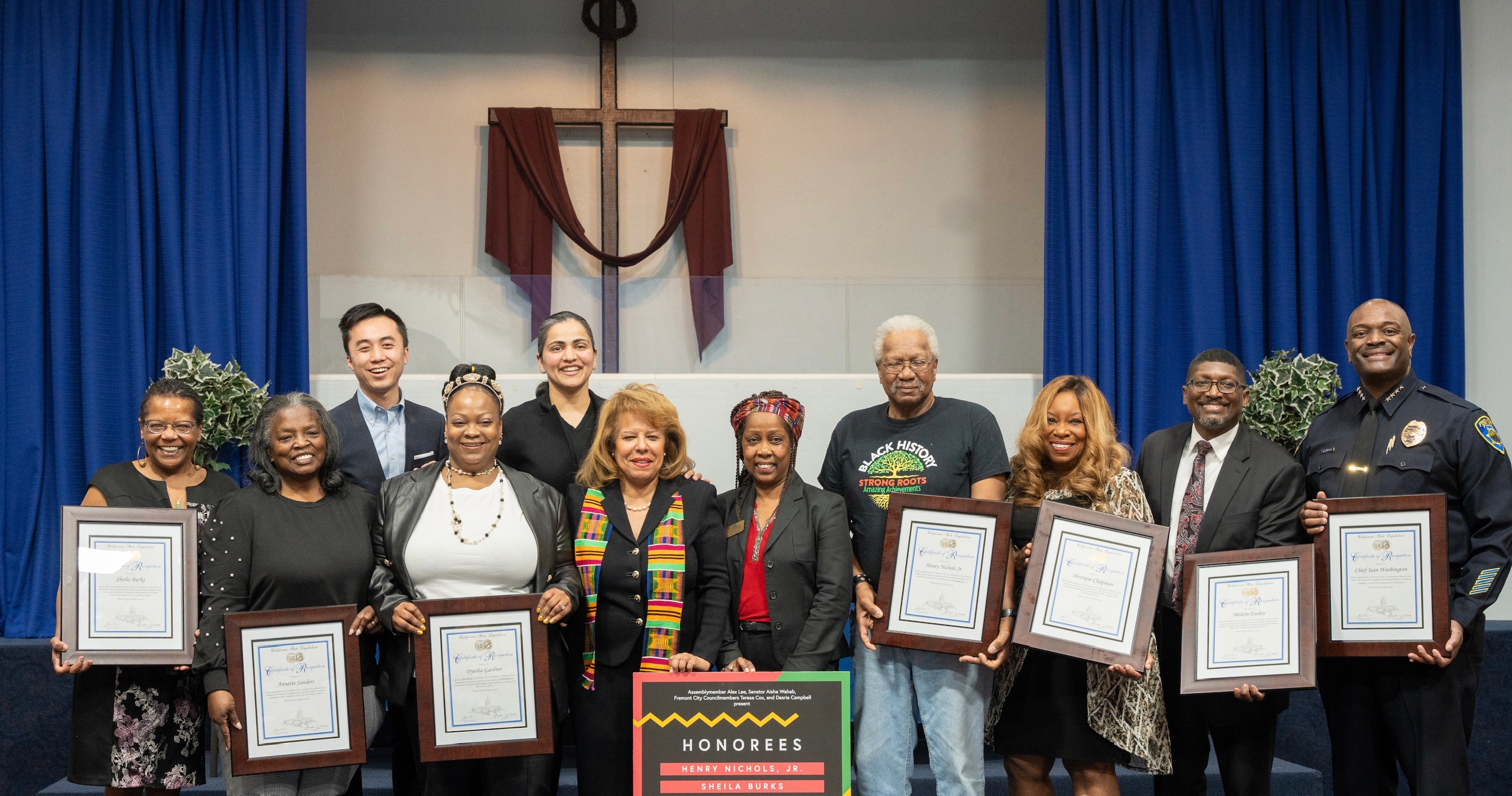 On Saturday, February 18th, Assemblymember Alex Lee celebrated Black History Month with Senator Aisha Wahab and Fremont Councilmembers Desrie Campbell and Teresa Cox at South Bay Community Church to recognize 7 community leaders:
Henry Nichols, Jr. – Henry Nichols and his wife Marcelle reside in Milpitas, California where he has lived since childhood. Henry is a retired Equipment engineer and trained computer technician, and Henry prides himself in being able to fix just about anything. His career has spanned several semiconductor companies including National semiconductor and Western Digital. Henry's second career is actually DJing, and he he has provided musical entertainment for many corporate events and has volunteered his services for many non-profits and organizations that give back to the community.,A man of many talents, he was also the historian for the documentary 54, the story of Sunnyhills in Milpitas, California that was the first planned integrated community in the nation. Henry is a longtime member of Fire and Ice Ski Club in San Jose he enjoys all kinds of sports including snowboarding, skiing, monoskiing and cycling. And finally, he also enjoys traveling abroad.
Sheila Burks – Mrs. Sheila Burks joined Alameda County Community Food Bank in 2010 after a professional career that included almost 20 years of work in financial services and affordable housing at Citibank and Fannie Mae, respectively. In her current role as Manager of Equity and Inclusion, Mrs. Burks collaborates with partners to develop and advocate for policies and practices that address the root causes of hunger, including racism. Her role has been deliberately linked to the Food Bank's equity and inclusion journey; building Community one conversation at a time because we cannot assume that "more diverse" necessarily translates into "more equitable." She is currently focused on partnerships that address the ability of first-generation college students and formerly incarcerated individuals and their families to navigate to more stable and sustainable economic outcomes in which they can thrive. Mrs. Burks is a passionate advocate for racial and economic justice and expanding access to ladders of success.
Annette Sanders – Mrs. Annette Sanders is a wife, a mother of 5, grandmother of 15, and a lover of working with and serving the people of Hayward for over 37 years. Mrs. Sanders is the epitome of grace, compassion and humility. She has devoted her life to serving her community and being a voice for so many who are voiceless.  She finds great joy and fulfillment being an advocate for others and building bridges with other communities. As a community liaison Mrs. Sanders has impacted the lives of so many in her community by making people feel seen and heard. She takes the time to listen to people and work with them in finding solutions to overcome their challenges. Mrs. Sanders' mandate and mission is to assist the people in her community and be a resource to all that she has the distinct privilege of serving.
Dyesha Gardner – Dyesha is a single parent of 2 beautiful children who have lived, learned, prayed and played in some of most beautiful areas in the City of Fremont for the last 17 years. It is her life's mission to help meet the needs of our people as a loyal, strong advocate for those whose voices haven't been heard. As the former leader of a women's ministry, she helped coordinate and lead meetings and conferences in California and Florida, where she could minster in words to inspire, equip, and empower through spiritual guidance. As the African American Parent Advisory Committee Chair, she's also been involved in advocating for and was instrumental in helping bridge the academic gap for underrepresented children by negotiating a contract with the FUSD and two local African American organizations for community outreach efforts and the development of a weekly African American History Workshop for American High School students and their families.  In 2021, the Mayor appointed Dyesha Commissioner of the Human Relations Commission, where she is committed to ensuring that the people who reside in our City foster mutual understanding and respect among the diverse groups of our community to improve inter-personal relations, and work to eliminate prejudice and discrimination.
Monique Chapman – Originally from the suburbs of Albany, New York, Monique and her husband moved to Fremont in 1983, where they raised three children, all that graduated from Mission San Jose High School. Monique joined the Weibel Elementary PTA Board, where she served as the parliamentarian, vice president of programs, and scrip treasurer for the annual Wild Cat Run fundraiser. Monique's most significant accomplishment at Weibel was sourcing and negotiating for a school-wide phone system with voicemail, a novelty in the 90s. Because of Monique's efforts, every teacher has a phone on their desk that could be used to reach parents, the administration, or first responders in an emergency. As a result, she was awarded the California Congress of Parents, Teachers, and students Continuing Service Award in 1998. Monique is currently Chair of the Senior Citizen Commission for the City of Fremont where she's implemented the lunch with the Fremont Police program and is on the committee for the new Age Wellness Center in Fremont South.  She is a Neighborhood Watch Captain and partnered with our First responders to lead the community action to shut down a Meth house in the neighborhood and leads an initiative with the City of Fremont.
Melvin Easley – Melvin Easley was born in Palo Alto, California, and at the age of 10, he moved to the south suburbs of Chicago, University Park, Illinois.  As a child, Melvin loved playing sports, as his father was a professional athlete and a Bay Area high school sports legend. At the age of 16, Melvin moved back to California and attended Menlo Atherton High School where he graduated and met his future wife. After high school, Melvin attended the Historical Black University, Howard University, and after Howard, he began his United States Naval career as an Information Systems non-commissioned officer. In the Navy, Melvin provided Naval IT21 training for sailors around the country which helped shape and build the foundation for his career in the information systems technology sector. Melvin has also had the opportunity to work for a groundbreaking technology company called ETAK which was the first navigational software company that helped shape the in-car navigational system technology as we know it today. Melvin is now the Chief Technology Officer for Fremont Unified School District, and he loves mentoring and coaching youth and high school sports. Most recently he was given the opportunity to coach and run a boys' high school basketball program where they successfully won 3 league championships, 2 Northern California Division I Championships, and 2 State Championship appearances in 5 years. Melvin has been married to his beautiful wife for 32 years and they have four beautiful children who all grew up here in Fremont.
Chief Sean Washington – Chief Sean Washington joined the Fremont Police Department (FPD) in 1997 and worked several assignments gaining experience as a Detective, Field Training Officer, SWAT Team Member, and member of the School Resource Officer Unit. Chief Washington was promoted to the rank of Sergeant (2007), Lieutenant (2011), and Captain (2015). He was appointed as the City's 8th Police Chief in October 2021, the first African-American appointed to this position. Chief Washington is committed to ensuring FPD personnel serve with dignity, respect, and fairness. He expects ethical and professional policing aligned with law, policy and community expectations. To help guide department objectives, Chief Washington hears perspectives, solicits input and enjoys partnerships with the NAACP, the Chief's Community Advisory Board, the newly established Youth Advisory Board, leaders in the Muslim community and various other cultural groups. He is actively involved in community-based activities such as Special Olympics, Shop with a Cop and National Night Out. Chief Washington has participated in several community and university panels on race, equity and policing. He is committed to fostering a diverse Department and signed the 30 x 30 Initiative, which aims to increase the representation of women in policing. Chief Washington is a member of the National Organization of Black Law Enforcement Executives (NOBLE).  Several years ago, he developed one of the nation's first electric patrol vehicle programs. Chief Washington has a Bachelor's degree (Criminal Justice) from California State University, Hayward and a Master's degree (Administration of Justice) from San Jose State University. He also graduated from the P.O.S.T. Command College (Class #57).  Originally from the Los Angeles area and a former collegiate basketball player for California State University, Hayward, he enjoys watching and rooting for the L.A. Lakers. Chief Washington also enjoys vacationing and spending time with his supportive family.