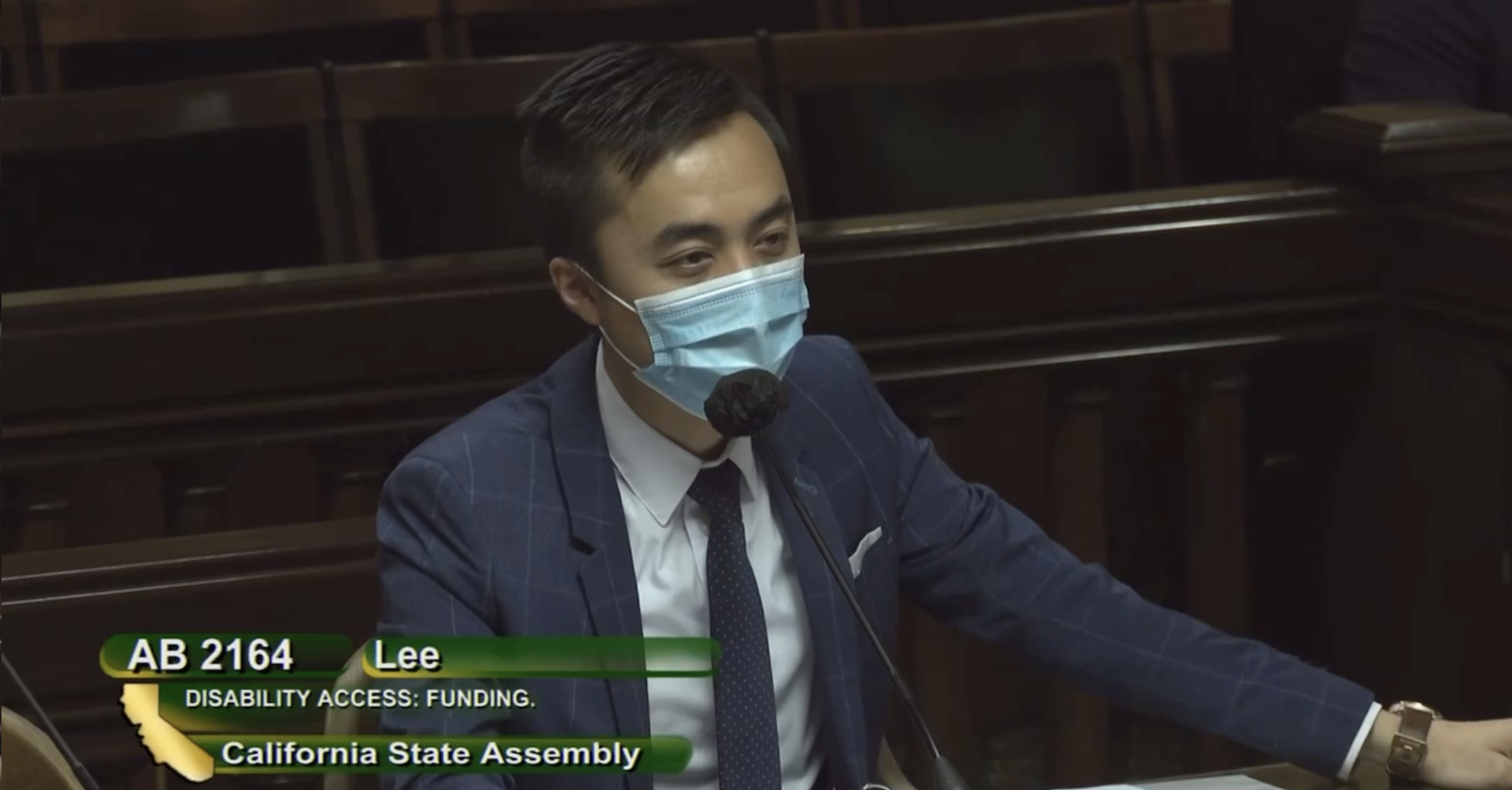 Today, AB 2164 by Assemblymember Alex Lee (D-San José), passed out of the Judiciary Committee with bipartisan support and the support of both business and disability groups. The bill helps ensure that small businesses have access to funds to make accessibility-related improvements so that Californians with disabilities have barrier-free access to businesses and other facilities.
In 1990, the U.S. Congress passed the Americans with Disabilities Act (ADA) to protect individuals from discrimination on the basis of disability which include physical accessibility requirements for privately-owned businesses. In California state law, the Unruh Civil Rights Act provides similar protections for individuals with disabilities, and the California Building Code provides comprehensive building accessibility standards. Businesses must comply with the ADA, which means integrating changes that improve accessibility, such as ramps and doors wide enough to accommodate wheelchairs
Despite these legal protections and government assistance programs, business accessibility has remained a major concern. Some businesses have struggled to understand the complex requirements or have been unable to raise funding for necessary physical improvements. 
"Compliance can be particularly challenging for small business owners with limited English or access to financial resources," said Assemblymember Alex Lee. "Helping small businesses become compliant is critically important because barriers prevent Californians with disabilities from accessing important goods and services, while depriving our local businesses of much-needed patronage." Sponsored by the City of San José, San José is also the city with the largest number of ADA claims in the state.
"San José is proud to support Assemblymember Alex Lee's bill to continue to fund local accessibility programs for small businesses," said San José Mayor Sam Liccardo. "In the end, this legislation supports access for residents of varying mobility needs, while providing needed assistance to our financially struggling businesses. We look forward to working with Assemblymember Lee to ensure its passage."
"The Americans with Disabilities Act (ADA) was one of the most successful pieces of federal legislation ever enacted when it was passed in 1990," said Derrick Seaver, President and CEO of the San José Chamber of Commerce. "As the legislation enters its fourth decade, the ongoing goal should be simplicity of compliance without being overly burdensome to small businesses. AB 2164 is a common-sense solution that seeks to continue to make available funding that provides more certainty and protection to those small businesses most at risk of complications. The San José Chamber wants to thank Assemblymember Lee for his advocacy for small businesses and urges the Assembly to pass AB 2164."
"We are pleased to work with Assemblymember Alex Lee to mitigate the devastating impact ADA compliance lawsuits have had on our small businesses, often leading to their closure," said San José Vice Mayor Chappie Jones and Chair of the Small Business Task Force. "Small businesses often struggle with access to capital; this legislation will increase access to resources and help create a barrier free and accessible space for all of our residents and visitors, and an environment where our businesses can prosper."
AB 2164 supports local jurisdictions by sustaining funding to improve accessibility in their regions. The bill would remove the January 1, 2024 fee sunset, enabling local governments to collect the $4.00 Disability Access and Education Revolving Fund (DAERF) fee indefinitely. AB 2164 would also clarify the ability for local jurisdictions to use these funds for accessibility-related grants for small businesses to fund accessibility-related certification, design, construction, and permitting fees.