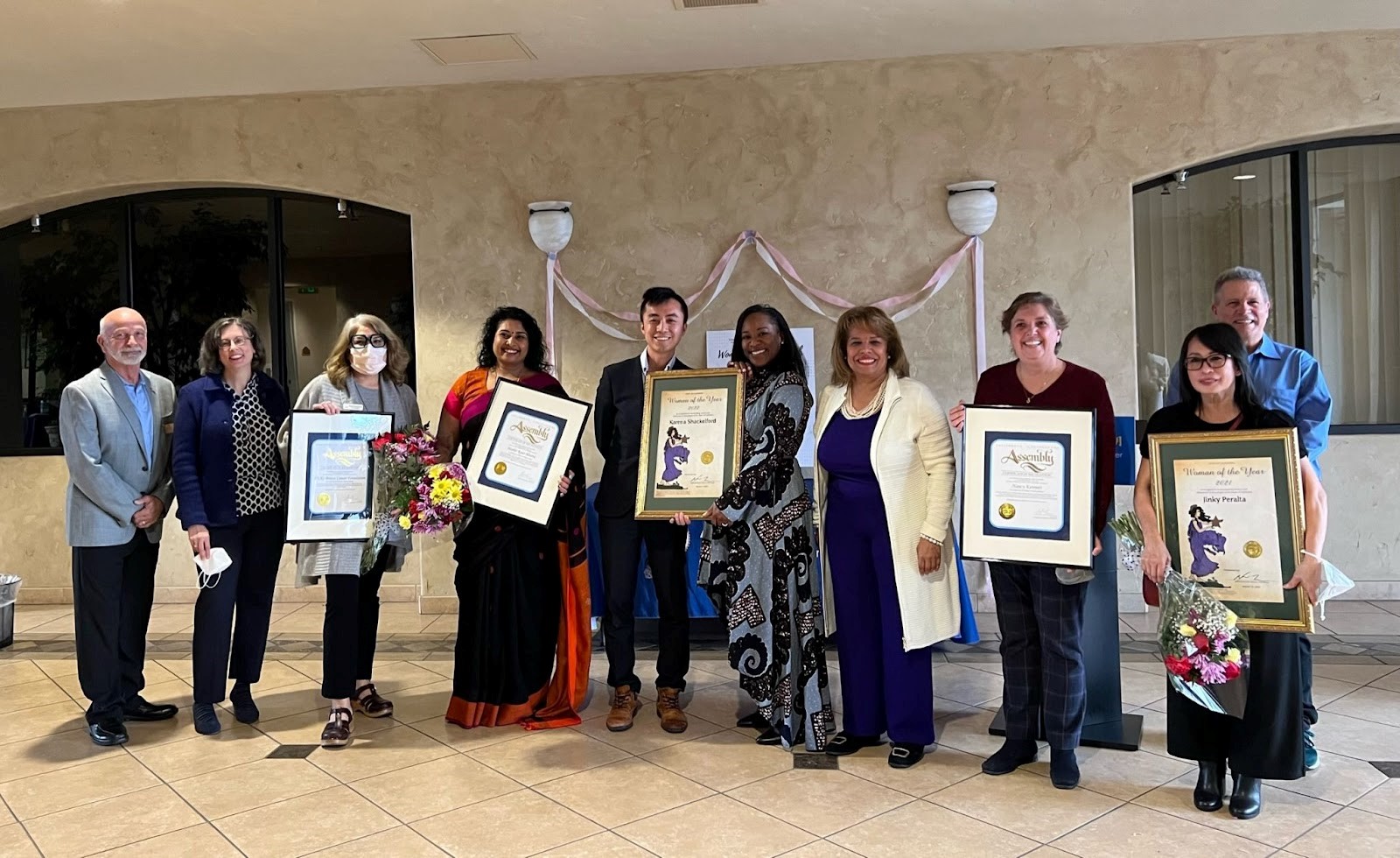 Assemblymember Alex Lee, Fremont Councilmember Teresa Cox, Fremont Councilmember Jenny Kassan, and Executive Director Tina Fernandez of Hers Breast Cancer Foundation hosted a celebration in Milpitas to celebrate Women's History Month Celebration and honor six leaders at a celebration in Milpitas.
Woman of the Year 2022: Karena Shackelford 
As the City Manager, Karena Shackelford oversees the day-to-day operations of the City of Fremont. Serving as Chief Executive Officer, she is responsible for providing leadership and direction to City staff and providing information, advice, and assistance to City Council.
She is also responsible for public relations, the City budget, and ensuring operations function efficiently.
Karena has over 20 years of experience in local government, 15 of those have been serving the City of Fremont. Under her leadership in Fremont, she has completed several complex projects on time and within budget.
Before becoming Fremont's City Manager, Karena served as Assistant City Manager for three years, where she had oversight of Public Works, Information Technology Services, and Community Services.
Prior to her role as Assistant City Manager, Karena served as Deputy City Manager, where she had oversight of the City Clerk's Office, Legislative Affairs, Communications, organizational development, and City Council relations.
In addition to her work in the City Manager's Office, Karena has served as:
Interim Chief Technology Services Director
Interim Public Works Director
Deputy Public Works Director
Deputy Director of Maintenance and Business Manager.
Karena holds a Bachelor of Science degree in Business Administration from San Jose State University, and a Master of Business Administration from Saint Mary's College. She is a member of the International City and County Management Association (ICMA).
Woman of the Year 2021: Jinky Peralta
Jinky Peralta, a resident of Milpitas, is the founder, Executive Director, and Treasurer for Sleeping Bags for the Homeless of Silicon Valley.
Under her leadership, Sleeping Bags for the Homeless of Silicon Valley has been able to deliver warm meals, non-perishable foods, toiletries, sleeping bags, tents, and tarps to unhoused members of our community on a weekly basis.
Jinky has been working as a Patient Financial Clearance Representative with Stanford Healthcare for nine years and has played a critical role as a frontline worker during the pandemic.
Jinky has worked in the healthcare industry for almost 26 years. She was born in the Philippines and immigrated to the U.S. at the age of 15 years old in 1987.
She lives with her husband and has three children and three grandchildren.
HERS Breast Cancer Foundation
Established by three strong, visionary women in 1998, HERS is a nonprofit with the mission of assisting all individuals healing from breast cancer by providing post-surgical products and services regardless of financial status.
Their name "HERS" is an acronym for "Hope, Empowerment, Renewal, Support" -- the things that they strive to provide and restore in their patients.
HERS' flagship program is located at Washington Hospital West in Fremont. They also have a satellite location in partnership with Kaiser Permanente at their San Leandro campus.
The organization strongly believes that financial and insurance status should not prevent patients from accessing products that provide physical and emotional aid.
HERS' assistance programs ensure patients are helped to feel whole again and their team of breast care specialists and support staff provide compassionate care in safe, welcoming spaces.
Their work is supported by fundraising events, including their annual gala and walks and runs, grants, and the generosity of community members.
Harbir Kaur Batia 
The key drivers in her life are 'Sarbat da bhalla' (betterment for all), 'Seva' (selfless service), and the Rotary motto, service above self.
Harbir is known for launching creative initiatives to mobilize people to come together. She is the founder of Ik Onkar Bridges, a social enterprise company for building bridges of understanding across diverse communities, uplifting society, enriching lives, and also celebrating Sikh Heritage.
She has served on numerous boards and organizations in the Santa Clara and San Jose area. She strives to increase understanding across diverse communities, support humanitarian issues, empower and educate, and address society's issues. In addition, she has worked with state and local governments and institutions on minority rights, Sikh awareness, anti-hate, and more.
At the start of COVID, she organized a community coalition of individuals, businesses, and enterprises to assist during the pandemic. She launched a mask-making group that delivered masks and built face shields, as well as a food pantry that provides meals for hundreds of households in Santa Clara.
This past year, she has been fully dedicated to India's farmers' protest, and now she is working on the Ukraine crisis and other local initiatives.
Nancy Kennett
Nancy Kennett has taught English at Piedmont Hills High School in San Jose for the past 35 years. Her career-long passion has been guiding students through a heritage project designed to celebrate our diverse landscape.
Students produce their own immigration stories infused with the local color, language, and stories of their homelands; all while developing university-level writing skills. 
Teacher education is also integral to Nancy's career. She has been a leader for the San Jose Area Writing Project at San Jose State University since 1991.
In addition, as the advisor for the California Scholarship Federation for 27 years, Nancy has worked to create a sustainable relationship with San Antonio Elementary School in Alum Rock Union Elementary School District. Through this relationship, students are able to coordinate art projects and letter-writing programs with the children of San Antonio Elementary School.
Nancy's most treasured memories in teaching continue to be the letters and visits she has received from countless graduates recounting how her teaching has enriched their feelings of self-worth, their views of the world, and their places in their cultural communities.
Nancy takes great joy in inspiring her high school students to become exemplary English teachers as five of her former students currently teach English at Piedmont Hills High School.
Shirley Sisk 
Shirley is the Executive Director of the League of Volunteers, also known as LOV. LOV assists children, seniors, and underserved communities in Fremont, Union City, and Newark. She founded LOV in 1979 because of the gaps in city services for kids during the summer.
LOV started the Summer Recreation Program for local children and slowly began adding more programs, such as Thanksgiving Day Meals, art in school assemblies, Sunday afternoon concerts, and scholarships for high school students.
LOV also has over 700 volunteers that provide service hours to local organizations throughout Southern Alameda County. Shirley continues her work as a nonprofit leader in Newark.