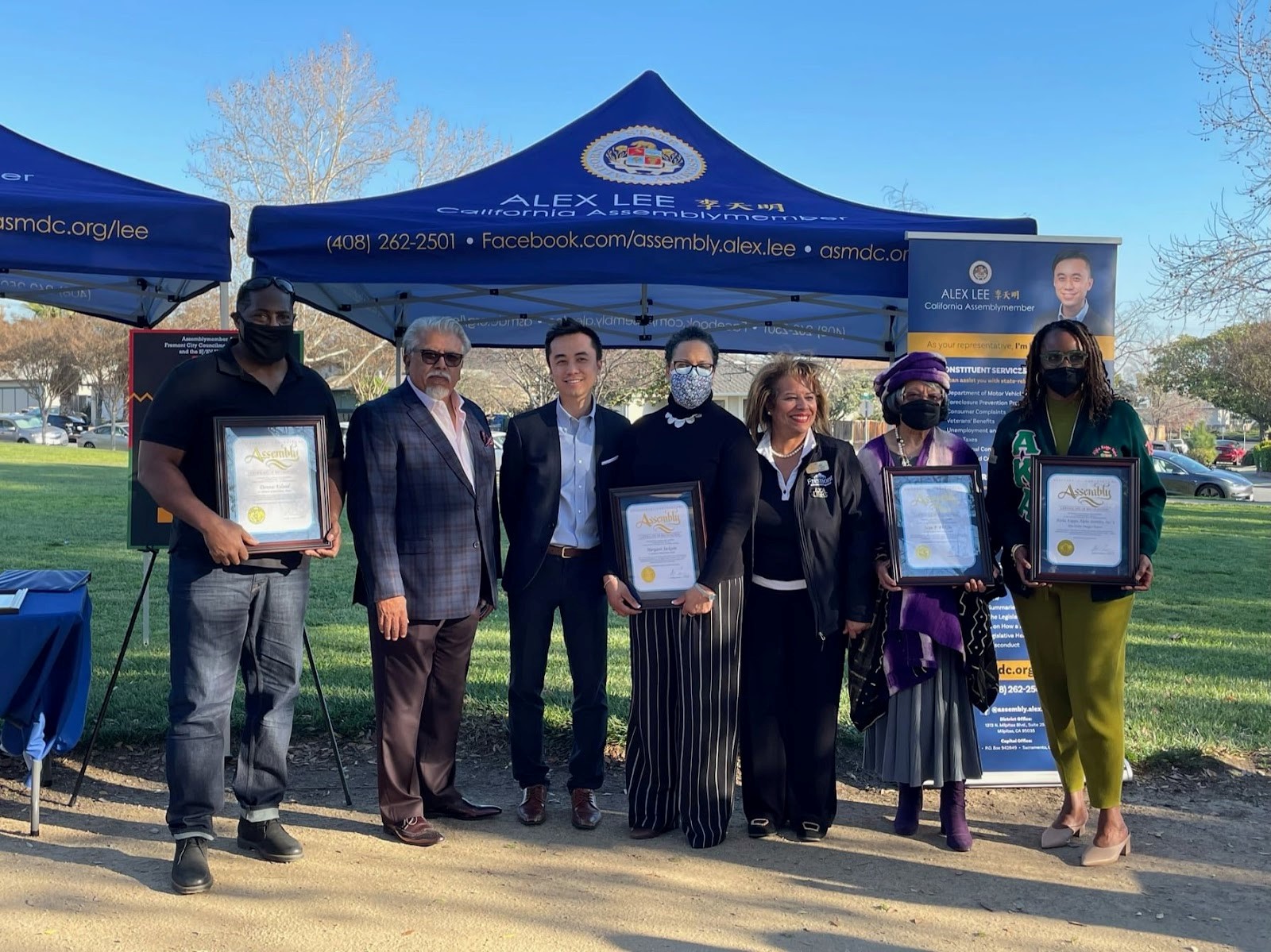 Assemblymember Alex Lee, Fremont Councilmember Teresa Cox, and the San Jose/Silicon Valley NAACP celebrated Black History Month Celebration to honor six individual leaders and the contributions of HBCUs at Albert Augustine Jr. Memorial Park of Sunnyhills in Milpitas.
The park was named after Mr. Albert Augustine Jr., a leader of the black community, who lived in the Sunnyhills neighborhood. Sunnyhills was the very first planned racially integrated community in the United States, and the neighborhood paved the way for cities to turn away from segregation and create more welcoming communities.
Donnie Eiland
Donnie Eiland is a long time Milpitas resident with roots going back to the early '60s. He attended Pomeroy Elementary, Thomas Russell Jr. High, and Milpitas High Schools. He was able to experience firsthand, the magical environment of the Sunnyhills neighborhood. Having lived on the same street as Sunnyhills Forefathers Oliver Jones and Oliver Dunbar, he witnessed the love and passion these two heroes had for their neighborhood. That experience was infectious.
In 2008 after learning about the history of Sunnyhills via the Sunnyhills United Methodist Church website, he had a desire to one day be able to produce a documentary to tell the Sunnyhills story. In January of 2019, all the stars aligned, and together with executive producer David Mosqueda, storyteller Ben Gross Jr., and historian Henry Nichols, he was able to start filming the documentary '54. The movie premiered on May 19, 2019 at the Century 20 theaters in the Great Mall of Milpitas.
Donnie is the father of one daughter Lorena, who along with his son-in-law Kevin, will bless him with his first grandchild in late spring of this year. He just wrapped up a 33-year career at Apple Inc. and is looking forward to getting involved more with his community and help make Milpitas that shining city on a hill that it was called to be.
Nyla Choates
Nyla Choates is the founder of My Roots are Rich and is an organizer for a peaceful Black Lives Matter protest in Milpitas. My Roots are Rich is a nonprofit dedicated to pushing back against systemic racism with a mission to "empower, inspire, and educate people, by reinforcing the rich culture of African Americans and their contributions to America." She also just released her first children's picture book by the same name based on her personal experience as young girl. The book tells the story of a young girl experiencing a lack of positive self-image in her school setting, leading her to believe her roots are not rich. Throughout the story, though, she meets a friendly butterfly who teaches her that her roots are richer than she believes. She was unable to join us today because she is having a launch event for her book at this very moment. She is also a recent Milpitas high school graduate and is excited to continue her advocacy work locally and beyond.
Dr. Liann Osborne (Fremont) 
Dr. Liann Osborne is the first Black Deaf Career Technical Education (CTE) principal at the California School for the Deaf, Fremont. Osborne embraces every untold story from the marginalized communities. Her dissertation centered on Black Deaf Lives Matter in Deaf Education: Educators who reinforced and countered anti-Blackness while working with Black Deaf students. She has extensive professional experiences that drive her to evolve into a better human, particularly with Buddhist philosophy as her way of living. Working with Black and Brown Deaf students, she loves ensuring that their beautiful existence matters. They have such luminosity within them, and it requires compassion, love, and warmth to be fully present in any institution with a dark history. Her family is her heart, and she would not succeed without them.
Fremont Fire Chief Curtis Jacobson
Curtis Jacobson was appointed as the 8th Fire Chief with the City of Fremont in December of 2017.  Prior to his selection, Chief Jacobson served the City of San Jose as a Firefighter, Fire Engineer, Fire Prevention Inspector, Captain, Battalion Chief, Division Chief, Deputy Chief, and culminated his last 3 years of his 25-year career with the San Jose Fire Department as the Fire Chief.  He worked in every Bureau and Division including Operations, Training, Prevention, Support Services, and Administration. 
He was also an active member of the San Jose Firefighters/International Association of Firefighters Local 230 and served as President of the Santa Clara County Black Firefighters, a chapter of the International Association of Black Professional Firefighters.
Chief Jacobson holds an Associates Degree in Fire Science from Mission College, a Bachelor of Science Degree in Political Science, and a Master's in Public Administration, both from San Jose State University.  In addition to his formal education, Chief Jacobson earned numerous certifications throughout his fire service career and is a Fellow of the Senior Executives in State and Local Government program at Harvard University's John F. Kennedy School of Government.
Chief Jacobson was raised in the South and East Bay Area by a family deeply committed to public service in the fields of public safety, law, and social services.  He remains active in the community through his membership on the San Jose Jazz Board of Directors and his fraternity, Phi Beta Sigma.  His values are based in education, diversity, community engagement, and servant leadership.  His favorite quote is from the Humanitarian and Greatest Boxer of All Time, Muhammad Ali who stated, "Service to others is the rent you pay for your room here on Earth."
Jean P. Ficklin
Jean Ficklin is a native Mississippian and has resided in Newark for 58 years. A 1951 graduate of Jackson College, now known as Jackson State University, she earned a Master's Degree and Reading Specialist credential from California State University, Hayward. She was the first African American teacher hired in the Newark Unified School District in September, 1964, retiring in June 1987 after 23 years of service. Prior to working in Newark, she also taught in the Jackson Municipal School District. She has been honored at the district, county, regional, and state levels for excellence in education and activities benefiting children's success.
She was appointed to the City of Newark Social Concerns Commission by Mayor James Balentine in the early 1970s, which led to her involvement with the Multiethnic Association and eventually, the birth of the Afro American Cultural & Historical Society, Tri City Area and Hayward of which she is the founder. For many years, Jean was involved in the Northern California Jackson State University Alumni Chapter. As a member of that chapter, she served in many capacities and was one of the links uniting other HBCUs in coming together for an annual picnic. Jean holds active memberships in Afro-American Cultural & Historical Society, Inc., Alpha Delta Kappa International Sorority for Women Educations (Beta Kappa Chapter), California Retired Teachers Association, Newark Arts Council, Hayward Area Historical Society, Newark Chamber of Commerce, Black Women Organized for Political Action (BWOPA).
She also holds lifetime memberships in the NAACP, National Alumni Association, Jackson State University, California State University, East Bay Alumni Association, Association for the Student of African Life & History, Northern California Center for African American History & Life, Phi Delta Kappa, California State University – East Bay. She's also received several educational, community service and recognition awards and honors from various US Senators, the Alameda County Board of Education, and the cities of Fremont and Newark.
Margaret Jackson
Margaret Jackson is the CEO/President of the Small Business Concierge Communications & Digital Media Corporation. She has more than 35 years as a business professional. Margaret Jackson is a regional advisor for the NorCal Inclusivity Project SBDC, advising African American small businesses. She is the publisher of the Small Business Concierge Digital Magazine (global reach) which provides small businesses a voice in today's competitive world. Jackson recently accepted a seat as a member on the California High-Speed Rail's Business Advisory Council.
Margaret Jackson is a sought-after Bay Area leader and public speaker. Jackson is Silicon Valley's top small business radio personality on AM 1220 KDOW Business & Finance radio broadcasting to more than 9.146+ million contour listeners covering the nine Bay Area and satellite radio.
Jackson is a thriving small businesswoman that promotes healthy commerce between local businesses and community relationships. She creates a level playing field that boosts win-win relationships. Her business savvy, marketing communications, public relations, and media production skills give her a unique advantage as a businesswoman to serve small businesses. Jackson is an ordained Christian minister that brings a fresh perspective on motivating and inspiring people to live life with power-purpose.
Margaret Jackson is a family-oriented woman, a wife to Derick A. Jackson, Senior Vice-President of Operations at Cameo Global, Incorporated, and mother. Alvie Jackson, her son, is a 2018 honor student graduate of SAE Expression College in Animation/Storyboarding and Visual Effects. He is a freelances in the entertainment industry. The Jackson family fosters dogs with the Human Society Silicon Valley (HSSV). In 2020, they became a foster failure of HSSV by adopting Serena, a five-year-old German Shepherd. They hope to be a foster failure again, giving Serena a playful companion.