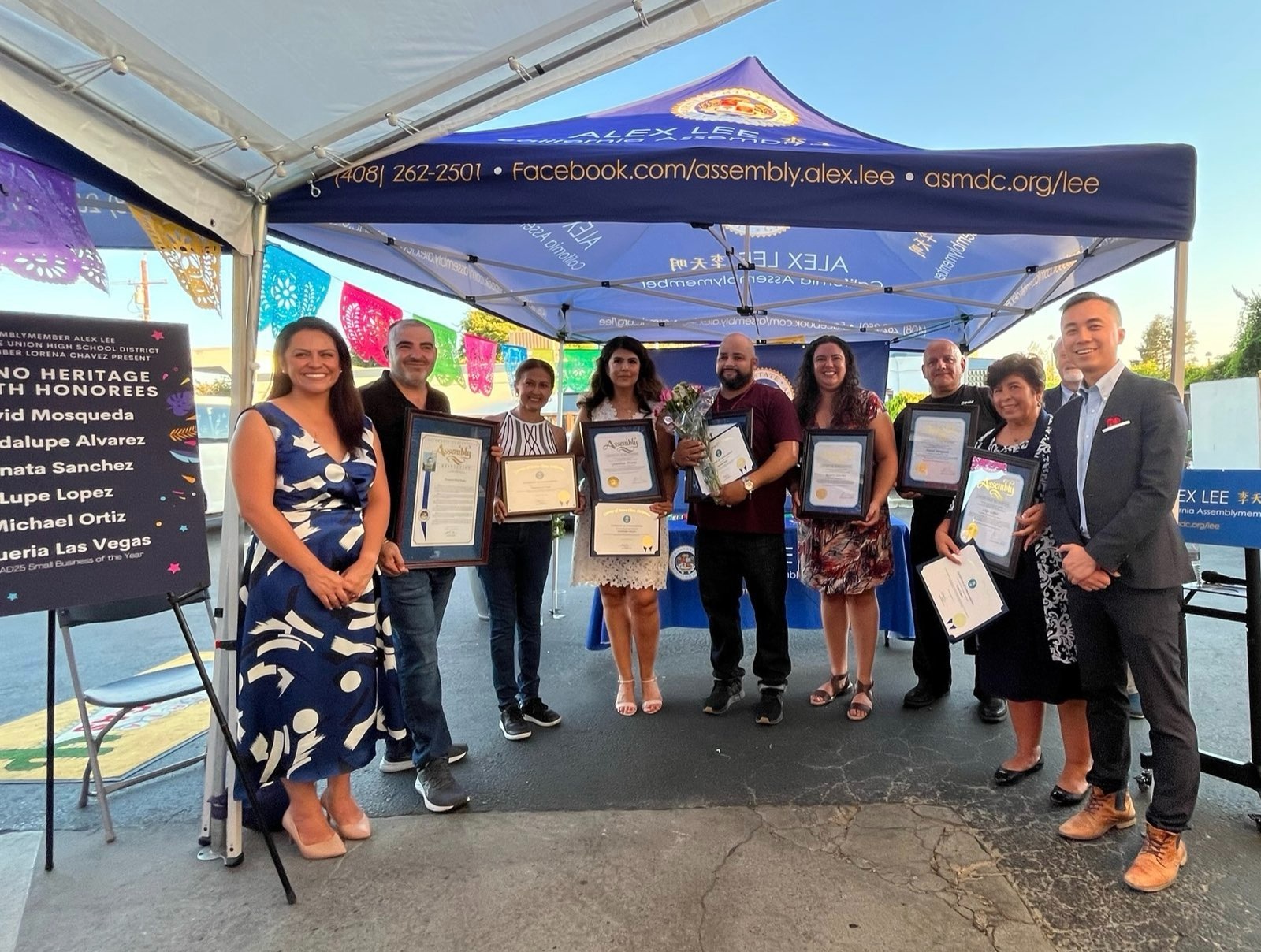 In honor of Latino Heritage Month, Assemblymember Alex Lee and East Side Union High School District Vice President Lorena Chavez hosted a celebration at Taqueria Las Vegas to recognize the business and 5 local leaders in the district.
Taqueria Las Vegas – 2022 Business of the Year - Taqueria Las Vegas was established in 2003 by Francisco and Jesus Rodriguez, two brothers who both emphasize the importance of family. Taqueria Las Vegas prides itself on providing friendly service to everyone. When you visit, you're not only enjoying a great meal, but you also feel right at home. They are a pillar of our community, and in their 19 years of service, they have always been involved in our community in various ways including fundraisers for our local schools, hosting yearly field trips for our high school Spanish and AVID classes, football and basketball teams end of year banquets, catering family events, high school reunions, church celebrations, nonprofit events, and by feeding the unhoused. They have proudly been voted as the Best Taqueria in Town for many years consecutively.
David Mosqueda - David has lived in Milpitas, more specifically, in the Sunnyhills neighborhood all his life. In fact, he lives on the same street where he was born and raised. He attended Joseph Weller Elementary, Thomas Russell Jr., and Milpitas High School. After graduating high school, David attended San Jose City College and received a certification of completion of Machine Technology and worked at the New United Motors Corporation for 18 years until he retired in 2010. David worked with Donnie Eiland (Island) to produce the documentary '54 which highlights Milpitas's history and the significance of the Sunnyhills neighborhood. Sunnyhills was the first planned racially-integrated community in the United States. The movie premiered on May 19, 2019 at the Century 20 theaters in the Great Mall of Milpitas. He has been married to his high school sweetheart Vicki since 1986 and has three children: Dano, Danielle, and Marie.
Lupe Lopez - Lupe is the owner of Arteaga's Food Center, which was established in 1993. Lupe is committed to working for her community and was the first to organize the "Fruit and Veggie Festival" at a grocery store to promote healthy living. She was also the first to implement the "Double UP Food Bucks" program, now known as GusNIP, to reduce hunger and improve health outcomes. This program will be integrated with EBT benefits by the spring of 2023. Lupe is also co-founder and a current member of AVANZANDO, a non-profit organization, dedicated to promoting the advancement of Latinos through education. In addition, she's also a current board member of Latinos Unidos de Newark, which is dedicated to fundraising for scholarships for unprivileged students. Lupe is also a current member of the National Grocers Association, working with the Legislative Committee to advocate for small businesses.
Guadalupe Alvarez - Guadalupe has been teaching 10th to 12th Grade Spanish Language and Culture, and AP Spanish Literature and Culture at Independence High School in the East Side Union High School District. She has been teaching for almost 20 years in her district and has dedicated her career to the students, district, and teaching profession for 13 years. She graduated from San Jose State University with a B.A. in Spanish Literature with a minor in English Literature. Ms. Alvarez believes in teaching the whole student as well as bringing the world into her classroom. She believes that as educators, we have a duty to teach beyond the classroom and prepare our students for life. Her mantra is that teaching entitles us to more than standards and tests. She was born in Durango, México, and has lived in San Jose for thirty years. She is married and has two kids (14 and 6 years old) and enjoys spending time with her family.
Renata Sanchez - Renata grew up in the Central Valley and came to the Bay Area for college. As a first-generation, English-speaking, multi-racial Latina, the intersectionality of race, gender, language, and education has always been important to her work and advocacy. She became an elementary school teacher to empower other BIPOC students through education. Renata has become a leader within the teaching profession, advocating at the local and state level for equity-based education policies. She is currently the Vice President of the San José Teachers Association and the Vice Chair of the Professional Rights and Responsibilities committee of the California Teachers Association State Council. In these roles, she has crafted policies supporting foster youth and incarcerated youth, empowering DACA recipients, and protecting undocumented families.
Michael Ortiz - Michael has been providing adaptive educational services to visually impaired youth at the California School for the Blind in Fremont for 18 years. During this time, he has worked with and supported students ranging from middle school to community college to achieve their academic goals and develop crucial life skills. With these skills, these students are able to become independent members of our community. He also assists in providing vocational training, academic preparation for college, and provides everyday skills needed by students to ensure they are ready for adult Independent life. This allows the students to have the