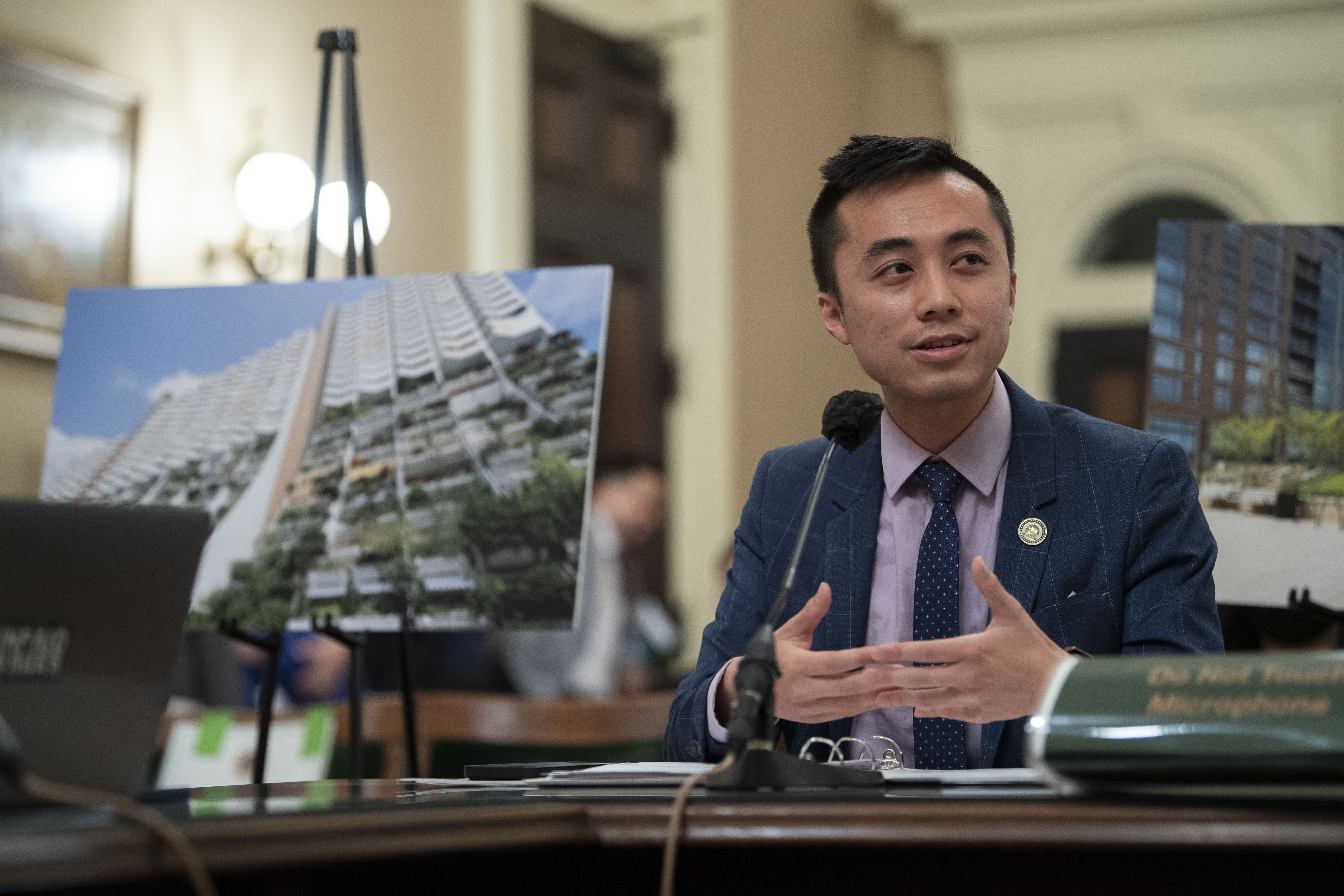 Today, AB 2053, the Social Housing Act, received the stamp of approval from the Housing and Community Development Committee and will be moving to the Appropriations Committee. The Social Housing Act will create the California Housing Authority (CHA) to produce and preserve mixed-income homes that are union built, sustainable, collectively owned, affordable for all income levels, and are financially self-sustaining.
"California needs all the tools we can to help tackle the housing crisis – and with social housing which is modeled off successful examples throughout the world, we can develop homes for the social benefit of all people," said Assemblymember Alex Lee. "I'm proud to lead the charge for social housing to fill missing gaps, provide affordable housing for all, and move toward a more equitable future with dignified housing for all strata of society."
The bill is sponsored by the State Building and Construction Trades Council, the California Labor Federation AFL-CIO, East Bay for Everyone, YIMBY Action, and the San Jose State University Human Rights Institute. The bill is jointly authored by Assemblymembers Wendy Carrillo and Ash Kalra and co-authored by Senators Scott Wiener, Ben Allen, and Lena Gonzalez, as well as Assemblymembers Mia Bonta, Steve Bennett, Cristina Garcia, Miguel Santiago, and Chris Ward. 
"It is imperative the Legislature continue to explore creative housing models that provide opportunities for tenants and homeownership. Los Angeles is the epicenter of housing insecurity, and rapid gentrification is causing massive rent increases and making dreams of homeownership seem out of reach," said Assemblymember Wendy Carrillo (D-Los Angeles). "Policy initiatives, like social housing, will provide affordable housing options for Angelenos and Californians alike who continue to experience displacement and lack a housing safety net. The Legislature and local governments must work together to stabilize our housing crisis. I look forward to working on this very important measure."
While the average Californian earns $63,783 annually, the median price of a home is roughly $800,000, more than double the national average. In California, more than two in five households currently spend over 30% of their income on housing, and more than one in five households spend over 50% of their income on housing. Families who pay more than 30% of their income for housing are considered rent burdened by the Department of Housing and Urban Development, and can have difficulty affording necessities such as food, clothing, transportation, and medical care. 
Due to the high cost of living, California has been losing lower and middle-income residents, and existing strategies to address the lack of affordable housing have not produced nearly enough to meet demand. Over 97% of cities and counties in California have been unable to produce enough affordable housing, and there are only enough affordable and available rentals for 24% of extremely low income households.
Social housing is publicly backed, self-sustaining housing that accommodates a mix of household income ranges:
Social housing is protected from being sold to a private for-profit entity for the duration of its life, and residents are granted the same protections (if not stronger) as tenants in private properties.
Residents are able to participate in decision making, such as providing the resident perspective to property management or hosting meetings to gather feedback from residents. 
Housing for people with higher incomes will subsidize low-income units and allow housing developments to become self-sustaining and revenue neutral. Remaining funds will be used for community development and repairs.
In contrast to public housing, which began as segregated housing for low-income residents and which concentrated poverty in locations which are socioeconomically isolated, social housing would develop mixed-income projects in desirable locations close to transit, parks, and recreation. By allowing for cross-subsidization as a social benefit, the goal is for tenants to spend no more than 30% of their income on rent.
Social housing has been successful across the globe, including several developments in Montgomery County, Maryland, as well as attractive, affordable housing for people of different income levels in Vienna and Singapore.
Visit CaliforniaSocialHousing.org to learn more.