Dear Friend,
Welcome to Summer! June was packed with legislative progress and exciting events, from Pride Month to Juneteenth. I will be highlighting some of the things we did out in the community, as well as sharing some Capitol updates.
Budget Update
Housing and homelessness - Provides $3 billion of 2023-24 housing and homelessness-related expenditures, including funding for the Multifamily Housing Program, adaptive reuse, CalHome, accessory dwelling units, and the State Low Income Housing Tax Credit Program, among others.
Child Care - Provides $2.83 billion in one-time funds for child care reimbursement. The unified legislative budget plan mirrors this in the Senate. Reduces family fees for child care and preschool to 1% of total family income, beginning Oct 1, 2023.
K-12 Education - Legislative budget plan has a $3.4 billion increase in Prop 98 funding for LCFF, reflecting costs of uTK and an 8.22% COLA in 2023-24.
Opioid epidemic - Approves $30 million one-time from the Opioid Settlements Fund to be used to support development, manufacturing, or procurement of a low-cost naloxone nasal product as an antidote for an opioid overdose. Approves $6 million one-time GF for distributing fentanyl test strips.
Food and Hunger - Approves the California Food Assistance Program, "Food for All," expansion of food assistance for eligible seniors 55+ regardless of immigration status. Approves $915,000 GF needed to initiate CalFresh Minimum Pilot Program to provide eligible households with $50 minimum monthly CalFresh benefits.
Anti-Hate - Approves May Revise request of additional $10 million GF for a new total of $50 million to support services for victims of hate crimes in consultation with the Commission on Asian and Pacific Islander American Affairs.
Higher Education (UC) - $800,000 ongoing GF increase for student basic needs. Support will now be $15.8 million ongoing GF. $1.5 million ongoing GF increase to support services for students with disabilities.
Community College - $10 million one-time Prop 98 GF in each of the next three years to support LGBTQ student support centers and includes budget bill language increasing the maximum amount allowed per district to $900,000.
Special schools and special education - Provides $2 million one-time to support the State School for the Deaf, Fremont, and approves various State Special Schools capital and planning expenditures. Increases funding for Golden State Teacher Grant Program with $6 million one-time federal funds for special education teacher candidates in high need schools.
Legislative Update
As our bills continue through the legislative process, I'm proud that our legislative package is rooted in issues most pertinent to our community: housing affordability, helping small businesses, and environmental sustainability. Below are some major bills that I was able to pass through the Assembly this month and are currently in the Senate.
AB 309 establishes Social Housing, which is publicly owned mixed income housing affordable to all income levels. Visit CaliforniaSocialHousing.org to learn more.
AB 332 requires the Department of Public Health to collect important data from public animal shelters so we can better optimize resources to help pets find their furever homes.
AB 413 increases visibility for pedestrians, bicyclists, and cars at crosswalks and intersections.
AB 502 will protect small businesses by banning the practice of re-routing calls to a third-party platform in order to charge a commission.
AB 604 clarifies that the protections created in our previous bill related to water service charges apply to residents of all mobile home parks.
AB 664 seeks to ensure that all residents are provided access to safe drinking water.
AB 1490 aims to increase adaptive reuse affordable housing projects by providing developments that meet certain qualifications with incentives, such as guaranteed permit turnaround times.
AB 1503 allows K-12 students to receive an excused absence of one full school day to attend religious events and gatherings.
To get information on all of my 2023 bills, please visit https://a24.asmdc.org/2023-legislation.
Senior Scam Stopper Seminar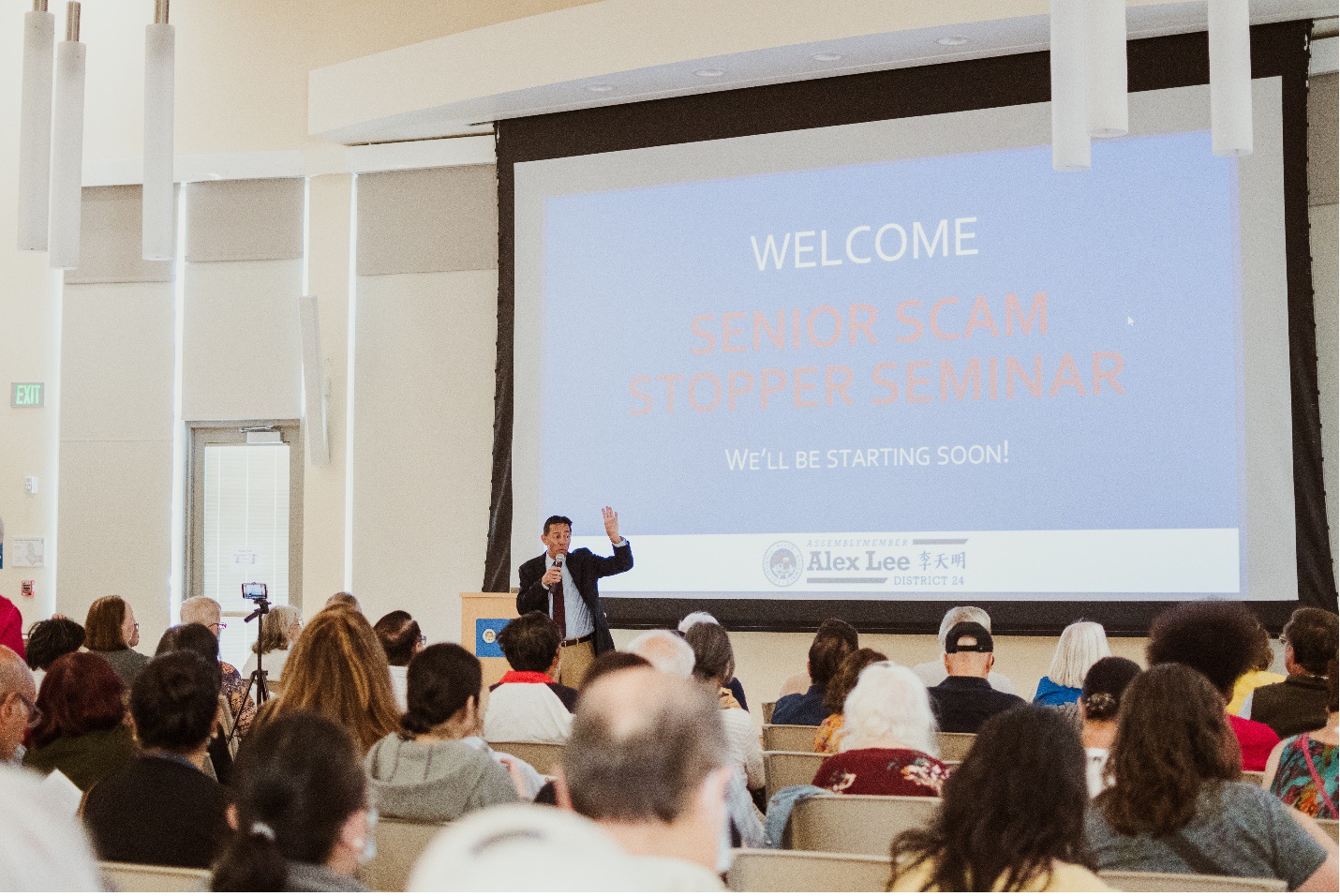 Our annual Senior Scam Stopper Seminar was a success! With experts from CA State departments, attendants learned strategies and resources to protect themselves from scams and fraud. Presenters included representatives from the Contractors State License Board (CSLB), Department of Financial Protection and Innovation (DFPI), California Department of Insurance (CDI), and Santa Clara County District Attorney's Office. In today's digital age, it's important for our community's seniors to stay informed and vigilant. If you missed the seminar, you can also re-watch it on my the website by visiting https://a24.asmdc.org/video/20230609-senior-scam-stopper-seminar-june-9.
Celebrating Pride Month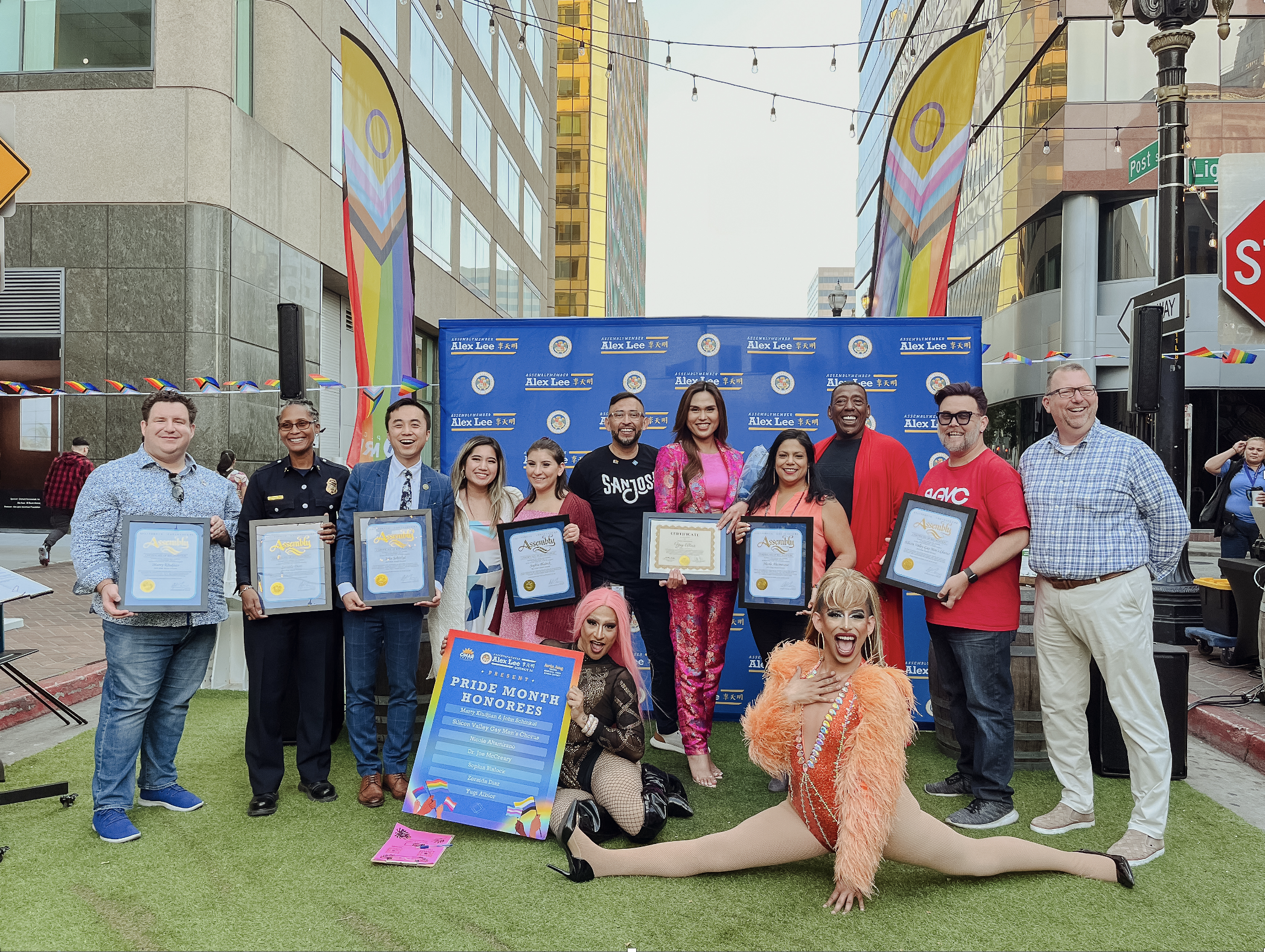 June is Pride Month, a time to celebrate the LGBTQ+ community and its accomplishments. On June 22, I hosted a celebration with Berryessa Union School District Board Member Jaria Jaug and San José Councilmember Omar Torres to honor the exemplary work of eight individuals and organizations leading in the community.
Marty Kludjian and John Schinkel
Silicon Valley Gay Men's Chorus (SVGMC)
Nicole Altamirano
Joe McCreary
Sophia Blalock
Zoraida Diaz
Yugi Albior
Learn more about the individuals and organizations honored on my website
Commemorating Juneteenth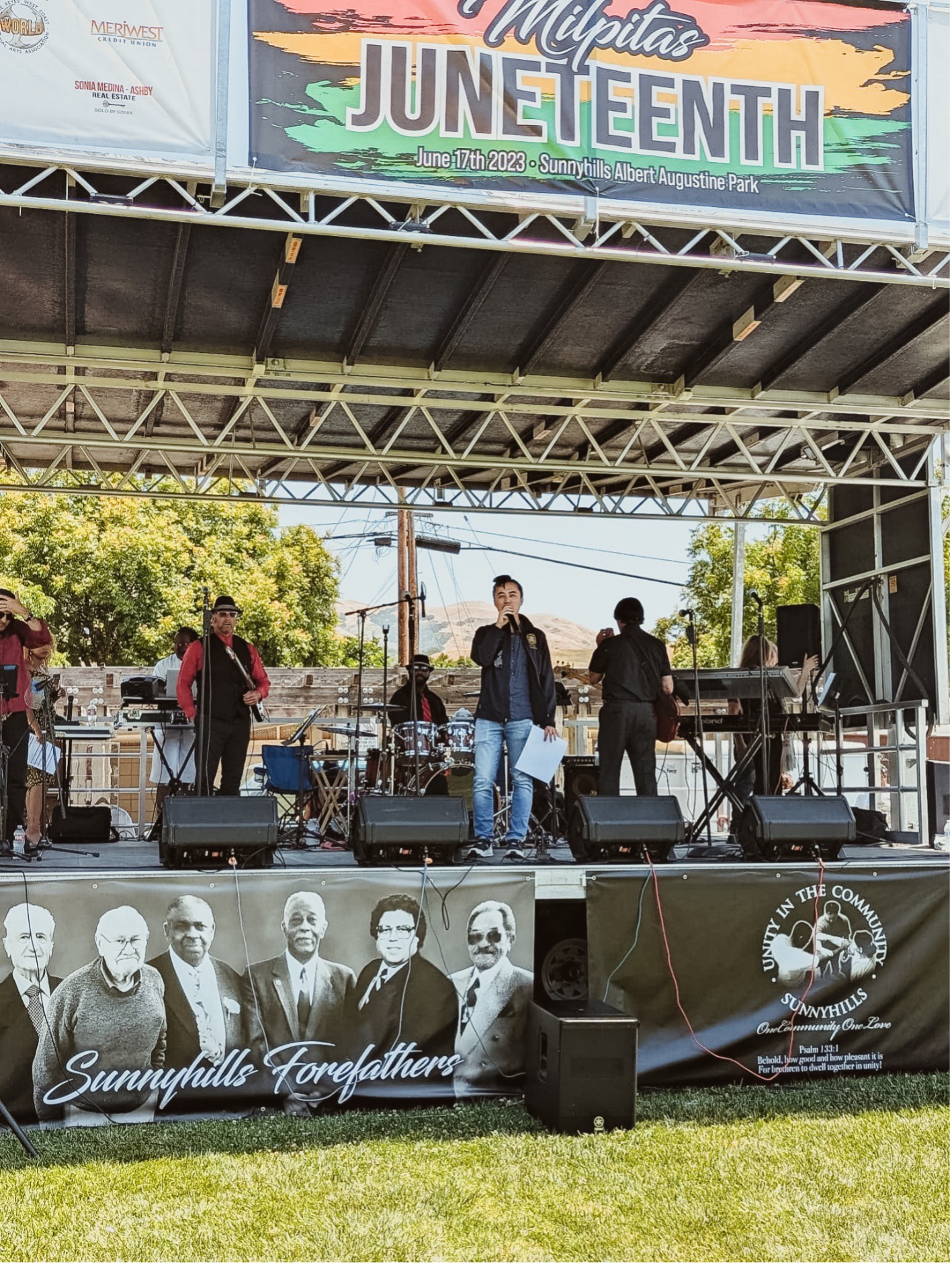 Happy Juneteenth! Juneteenth commemorates the official day black Americans in Galveston, TX were freed - 2 years after the emancipation proclamation by President Lincoln. Juneteenth serves as a reminder that the fight against racism is still ongoing. As we acknowledge the past, let's continue the fight for justice and equity for all!
Last weekend, I had the honor of celebrating Juneteenth in Milpitas with Sunnyhills Neighborhood Association for their first annual celebration in Sunnyhills-Augustine Park. In San José, Ash Kalra and I recognized the African American Community Service Agency at their 42nd Annual Juneteenth in the Streets Festival for their commitment to bringing the community together for an incredible display of culture and strength.
Resources
Finally, I wanted to highlight that summer is the hungriest time of the year for kids who depend on free meals from school. Did you know? Kids and teens across our community can get free meals all summer long! Text FOOD or COMIDA to 304-304 to find a site near you, or to learn more, visit No Kid Hungry.
Yours in Service,

Alex Lee
Assemblymember, 24th District