Dear Friend,
I hope you had an enjoyable Memorial Day weekend and were able to reflect on those who made the ultimate sacrifice for us.

---

Senior Scam Stopper Seminar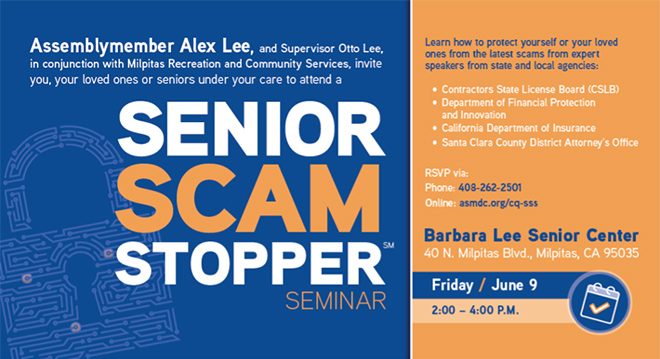 Join me and Supervisor Otto Lee in conjunction with Milpitas Recreation and Community Services to learn how to protect yourself or your loved ones from the latest scams from expert speakers from state and local agencies:
Contractors State License Board (CSLB)
Department of Financial Protection and Innovation
California Department of Insurance
Santa Clara County District Attorney's Office
At this seminar, you will receive information and informative brochures from the experts, and have the opportunity to ask questions to the presenters.
Friday, June 9, 2023
2 p.m. - 4 p.m.
Location: Barbara Lee Senior Center
40 N. Milpitas Blvd. Milpitas, CA 95035
RSVP by clicking the button above or you can call my District Office at 408-262-2501. This seminar will also be live-streamed on my official Facebook page. I hope to see you at the seminar!

---

New Statewide Hotline to Report Hate Acts in California
Governor Newsom and the Legislature have invested $110 million into anti-hate programs. This month, Governor Newsom announces the launch of CA vs Hate, a New Statewide Hotline to report hate acts. Californians can visit the CAvsHate website or call (833) 866-4283 for resources and to report acts of hate. Callers can receive assistance in over 200 languages.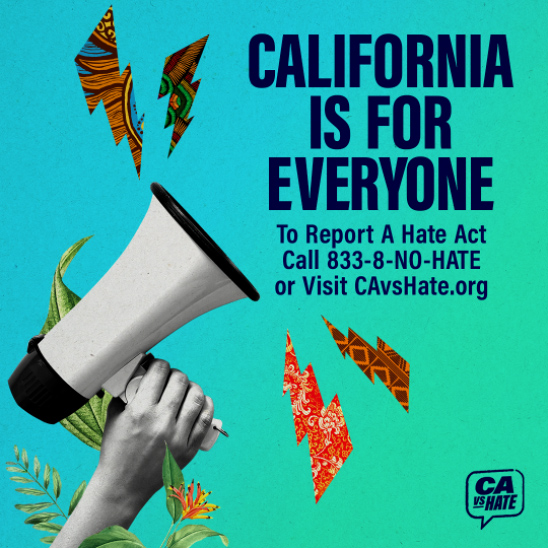 ---

Legislative Update
As our bills continue through the legislative process, I'm proud that our legislative package is rooted in issues most pertinent to our community: housing affordability, helping small businesses, and environmental sustainability. Below are some major bills that I was able to pass through the Assembly this month and they are moving on to the Senate.
AB 309 establishes Social Housing, which is publicly owned housing that is affordable to individuals and families of different income levels. Visit the California Social Housing website to learn more.
AB 332 requires the Department of Public Health to collect important data from public animal shelters as part of their annual rabies report.
AB 413 increases visibility for pedestrians, bicyclists, and cars at crosswalks and intersections.
AB 502 will protect small businesses by banning the practice of re-routing calls to a third-party platform in order to charge a commission.
AB 604 clarifies that the protections created in our previous bill related to water service charges apply to residents of all mobile home parks.
AB 664 seeks to ensure that all residents are provided access to safe drinking water.
AB 1490 aims to increase adaptive reuse affordable housing projects by providing developments that meet certain qualifications with incentives, such as guaranteed permit turnaround times.
AB 1503 allows K-12 students to receive an excused absence of one full school day to attend religious events and gatherings.
Get information on all of my 2023 bills.

---

Celebrating Asian American Pacific Islander (AAPI) Heritage Month
May is AAPI Heritage Month and on May 19 I hosted a celebration with Fremont Unified School District's Board President Vivek Prasad in Fremont to honor the exemplary work of six individuals and organizations leading in the community.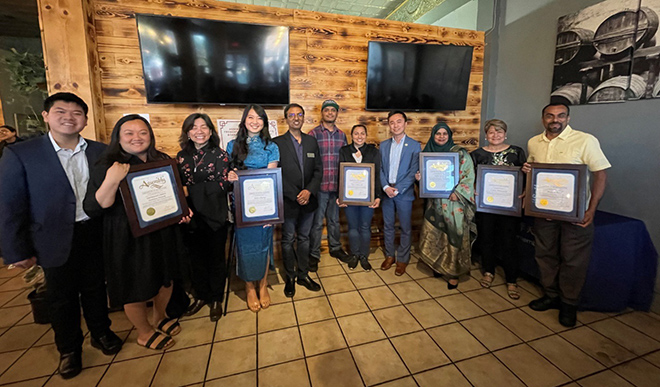 Learn more about the individuals and organizations honored:
Loreto Dimaandal is an advocate for unhoused individuals and families and has been serving the unhoused community members in Milpitas for over 10 years by passing out food and other needed items.
Nina Chuang is a student activist and representative of the Asian and Pacific Islander community at SJSU. She is the first Taiwanese American, the first Malaysian American, and the first Chinese American Woman to serve as Associated Students Student Body President at SJSU.
Fahria Khan currently works as Donor Engagement Manager at Maitri (2023 Non-profit of the Year). She is a passionate education activist who believes in creating opportunities for all students to shine.
Mahesh Patel is a small business owner and Indian-American community activist. He is the owner of Suju's Coffee and Tea and has donated his time and product at various events and meetings. He has also been an active volunteer with the Gujarati Cultural Association for many years.
International Children Assistance Network (ICAN) engages, informs, and inspires Vietnamese Americans to raise the next generation of caring leaders through humanitarian programs, culturally responsive social programs, and community-based research. They empower the youth to become caring, responsible, and productive members of the community.
Hops and Beans Cafe is an AAPI owned-business in Fremont that first opened its doors in March 2019 and has survived the COVID-19 pandemic to become a successful business in Fremont.
Finally, thank you to everyone who joined our Joint Townhall with Congressman Ro Khanna at Milpitas High School on May 5. As your representative in the State Assembly, my goal is to provide the highest quality of public service. To get assistance from my office or share your feedback, please visit my website or call my office at 408-262-2501.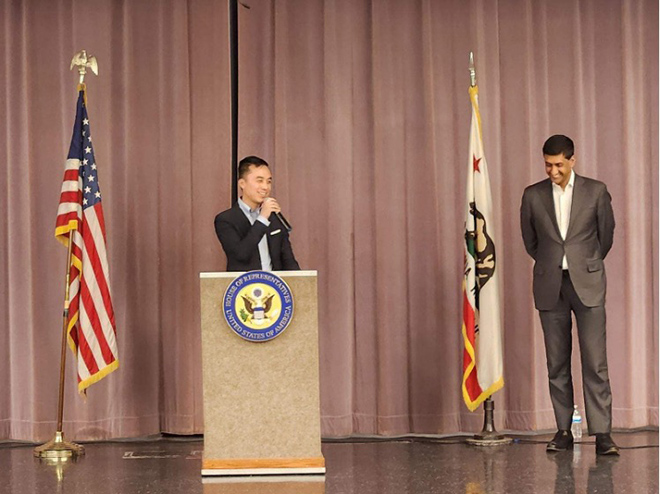 Yours in Service,

Alex Lee
Assemblymember, 24th District