Dear Friend,
I hope you're enjoying the start to the holiday season! To kick off the new year, I want to invite you to my upcoming swearing-in and town hall on Saturday, January 7 at Milpitas High School.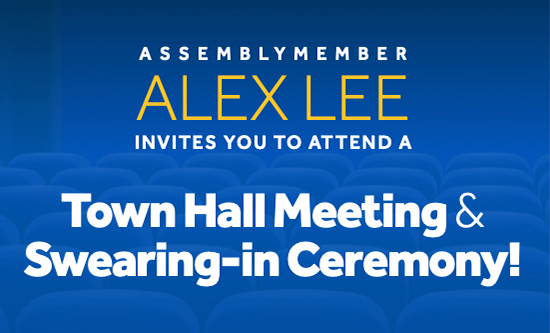 I hope you'll join me for a swearing-in ceremony and share your thoughts on new bills that could improve our community! Your idea can even become law like our bill AB 2949, which goes into effect on January 1. AB 2949 was one of our constituent ideas from a Fremont resident, and it exempts disabled veterans and Purple Heart recipients from paying tolls on toll roads, bridges and highways.
Saturday, January 7
11 a.m. - 12:30 p.m.
Milpitas High School Theater
1285 Escuela Parkway
Milpitas, CA 95035
Please RSVP in advance by clicking the RSVP button below or by contacting my District Office at (408) 262-2501.
Unsung Heroes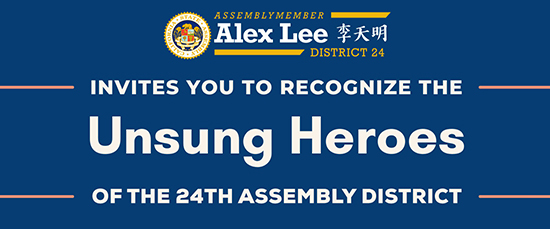 Our annual Unsung Heroes event will be back in April and I need your help recognizing the unsung heroes of Assembly District 24! Members of our community are working hard every day and don't often get the recognition they deserve. I am asking you to nominate an Unsung Hero who has volunteered their time or stepped up tremendously to make our community a better place.
Two Years in Two Minutes
Finally, it's been an eventful first two years in office - here's a quick recap of our first two years in two minutes - I'm looking forward to the next session!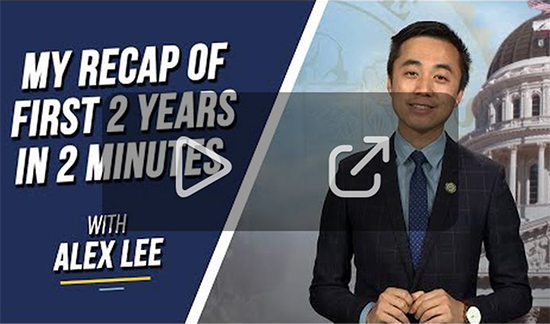 Thank you, and I'll see you in the new year!
Yours in Service,

Alex Lee
Assemblymember, 24th District