Dear Friend,
Great news! The Social Housing Act, AB 309, was passed in the Senate Appropriations Committee. Our social housing legislation has made it the furthest any social housing bill has ever moved in the State Legislature. I've been pushing for social housing legislation since I first came into office three years ago. Our vision is to bring the paradigm shift of providing housing as a universal human right in California, just as we do for our schools and roads.
Capitol Updates
In total, the Senate Appropriations Committee passed six of our bills, legislation that will address some of the most pressing issues including the housing crisis, traffic safety and environmental justice.
AB 309 will establish social housing developments in California. Social housing is publicly backed, self-sustaining housing that accommodates a mix of household income ranges. The bill will authorize up to 3 social housing to be developed on suitable excess state land for housing.
AB 413 will make our roads safer for everyone by keeping 20 feet of an intersection or crosswalk's approach side clear of stopped vehicles through a safety measure known as daylighting.
AB 652 will establish the Environmental Justice Advisory Committee in the Department of Pesticide Regulation (DPR). The committee will give communities disproportionately impacted by pesticide exposure a seat at the table in DPR's decision-making process.
AB 664 will ensure that renters served solely by their wells have access to potable water in California. The bill will require well owners who turn down consolidation - the joining of two or more water systems when they fail or are at risk of failing - to assume responsibility for ensuring that tenants have access to safe drinking water.
AB 1490 will help increase the supply of affordable housing by providing incentives, such as expedited reviews, to qualified affordable housing developments that repurpose an existing building for housing. These developments are known as adaptive reuse projects.
AB 1503 aims to recognize California's rich diversity by providing students a full day of excused absence for religious retreats per semester, up from 4 hours.
B.A.P.S. Delegation at the Capitol
I was honored to welcome Mahamahopadhyay Swami Bhadreshdas and the B.A.P.S. delegation to the California State Assembly. Swamiji is an eminent scholar of Indian philosophy, cultural traditions and Sanskrit, the sacred and historic language of India.
Among his many achievements is his most significant milestone, the writing of the commentary Swaminarayan Bhashyam. Here's a video by B.A.P.S. featuring the presentation of the commentary to the California State Library, a historic occasion that marks the exchange of our cultures and histories.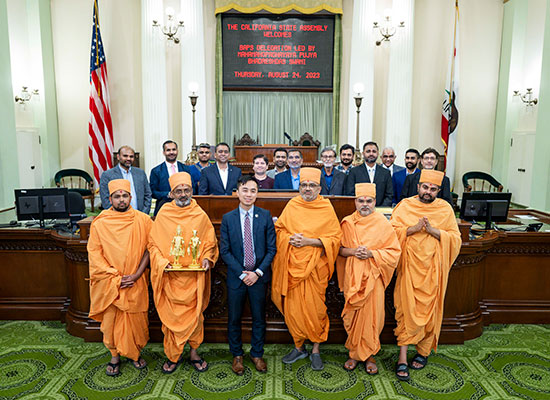 In the District
Upcoming Event
I'm pleased to invite you to my upcoming Latino Heritage Month Honoree Event with Alameda County Supervisor Elisa Marquez at the Newark Library on Monday, September 18, 2023. Please RSVP via email at Matthew.Jorgens@asm.ca.gov or call (408) 262-2501.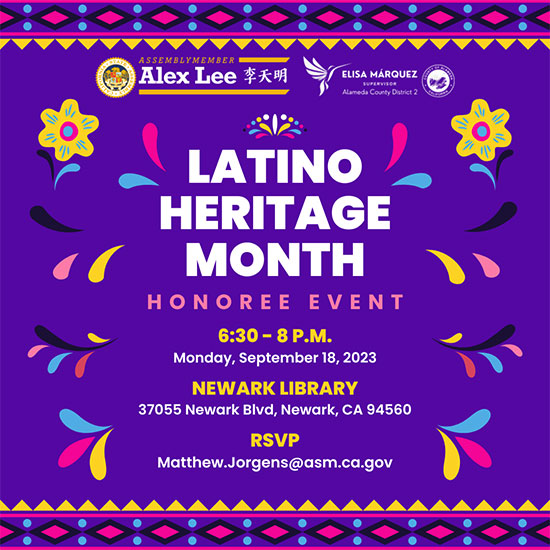 August Reflection
August was packed with festivities and meaningful conversations across the district. Kicking off the month, I got the chance to visit every city in the district - Milpitas, San José, Fremont, and Newark - to celebrate National Night Out, an annual event to support safer neighborhoods and to build relationships between the community and law enforcement.
Celebrations like the Silicon Valley Pride Parade and the Festival of Globe's 31st Annual India Day Parade encapsulate how blessed our district truly is by the rich culture and contributions of our communities. We celebrate our diversity in these gatherings, recognizing we are stronger together. That's how we build understanding among one another.
Lastly, I wanted to recognize Maitri Bay Area for its work in supporting South Asian families facing domestic violence and beyond. Maitri, our 2023 Nonprofit of the Year, provides these families assistance with legal, housing and financial matters. It was great visiting Maitri in August! Organizations like Maitri are a testament to our community's dedication to serving those in need.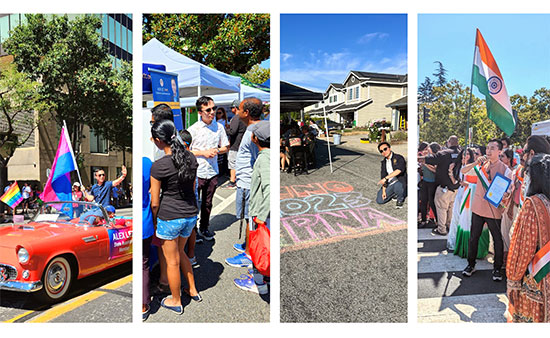 Social Housing Town Hall
If you missed the town hall, you can rewatch it here to learn more about AB 309, the successes of social housing worldwide, and why it holds great promise in California.
In the News
Los Angeles Times - Editorial: How changing the rules on stairways could help California build more homes
Read on about how our bill AB 835 can be a step towards bringing single staircase reform, which can ultimately help California build more homes and a greater variety of housing while maintaining high fire safety standards.
KCBS Radio: A new multi-use community center is coming to Fremont
Listen to the radio interview on Fremont's multi-use community center at Central Park, and the $9 million in state funding that I've secured for the facility.
Association of California School Administrators Legislative Lunch Break: Assemblymember Alex Lee
Watch the interview for more about my work to make housing more affordable and to protect diverse instructional materials in schools.
Legislative Softball Game
A quick shout out to the office's staff for supporting my debut at the annual legislative softball game - happy to report that my team, NorCal, took home the win against team SoCal!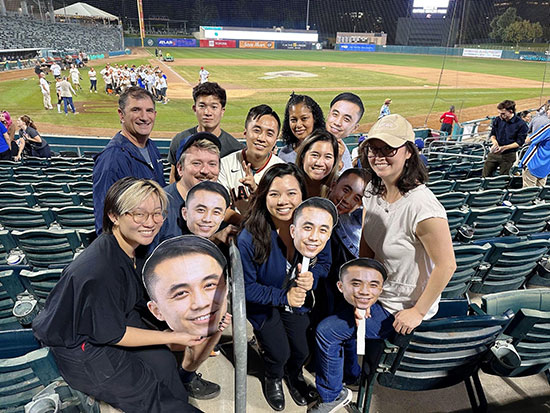 Resources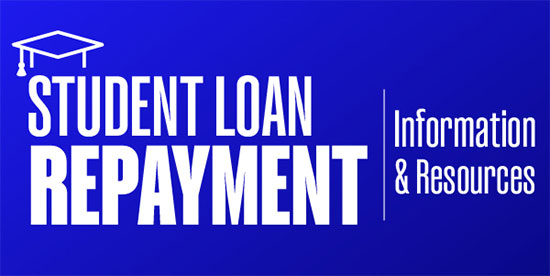 Student loans have resumed interest accruement and student loan repayments will soon be due, starting October 2023.
Make sure you don't wait until the last minute to log in to your account and see what your options are. Please find some key tips for student loan repayments below:
Use the Loan Simulator to see what repayment plan is best for you.
Don't wait until your first bill to start preparing how to budget.
You may qualify for lower monthly payments based on your income and family size with the Income-Driven Repayment Plan.
If you find yourself in financial difficulties and unable to restart student loan repayments, you can apply for temporary relief for deferment or forbearance with your loan provider.
Sincerely,

Alex Lee
Assemblymember, 24th District